Boeing Wins Contract for Apache Attack Helicopters to Taiwan and 2 Other Dow Movers to Watch
The Boeing Co. (NYSE:BA): Current price $105.64
The Defense Department has announced Friday that Boeing is has won a "modification" of an existing firm-fixed-price, option-filled, foreign military sales contract through which to provide Block III Apache AH-64D attack helicopters to the Taiwanese military. The contract modification is valued at $92.3 million, and raises the magnitude of the underlying Apache arrangement above $716 million in total value.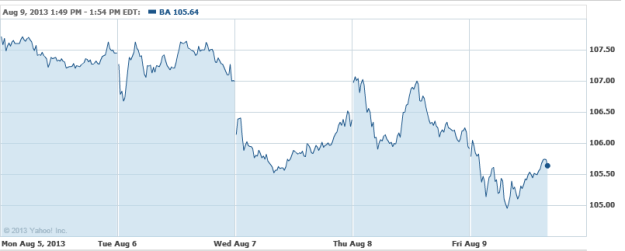 McDonald's Corp. (NYSE:MCD): Current price $97.53
On Friday, McDonald's said that a key sales figure moved up modestly in July, while a larger drive behind its Dollar Menu and Big Mac in the United States helped outweigh declines overseas. The number-one hamburger chain on the planet reports that worldwide sales rose by 0.7 percent at restaurants open a minimum of 13 months, which included a 1.6-percent rise in the U.S. where it said that "everyday value offerings," breakfast, and staples like the Big Mac pushed up results.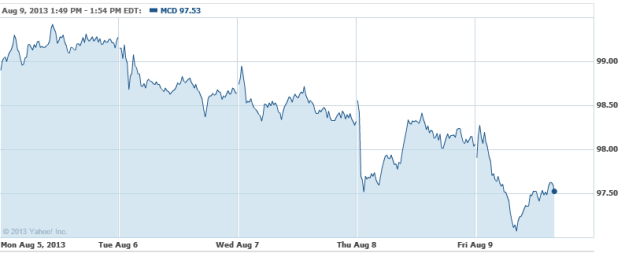 Exxon Mobil Corp. (NYSE: XOM) Current Price $90.63
Exxon Mobil will be joined by PetroChina in the development of Iraq's giant West Qurna oilfield, and industry sources said that the latter is in discussions with Russia's Lukoil to buy into a second project at the field.  A deal for PetroChina at West Qurna would fortify its dominance and could make the company the number-one single outside investor in Iraqi oil. West Qurna is key to Iraq's oil expansion plans — having sufficient reserves to pump over 5 million barrels per day — and it could compete with the world's largest producer, Saudi Arabia's Ghawar field, when its two phases are fully in operation.