Boeing's 747-8 Intercontinental Finishes Test Drive and 2 Other Dow Movers to Watch
The Boeing Company (NYSE:BA): Current price $98.82
On Tuesday it was announced that a Boeing 747-8 Intercontinental successfully concluded its initial test flight this week, along with a package of performance improvements including enhanced GE engines. This package was created to improve the fuel efficiency of the jetliner. Boeing Flight Test and Evaluation Capt. Kirk Vining and Chief Pilot Capt. Mark Feuerstein were at the controls when the airplane took off from Paine Field in Everett, Washington, at 1:30 p.m. Pacific Time, and landed at Boeing Field in Seattle about four hours later.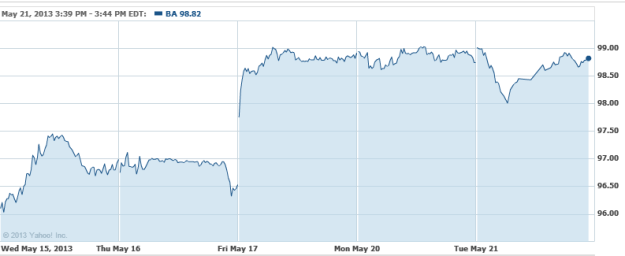 General Electric Company (NYSE:GE): Current price $23.74
Delaware Governor Jack Markell accompanied officials with GE Aviation to celebrate the addition of around 70 jobs at the firm's Newark plant. GE Aviation is a division of General Electric Company, and says that it intends to add 70 jobs at the Newark site. Markell will join officials Tuesday in reporting a $27-million investment in support of increased output of ceramic matrix composites, which are lightweight materials that can withstand high temperatures.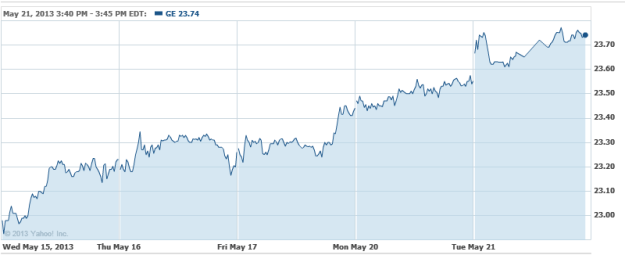 American Express Company (NYSE:AXP): Current price $75.23
American Express announced Tuesday it has reached a multi-year marketing arrangement with ShopRunner. Through the terms, ShopRunner will offer American Express domestic Consumer Credit and Charge Cardmembers one-year of free two-day shipping, a benefit currently valued at $79 per year. Beginning May 15, Cardmembers could enjoy a year of free two-day shipping at ShopRunner's retail partners, which number more than 70, such as Toys"R"Us, PetSmart, drugstore.com, and Sports Authority, among others. This promotional offer will remain available through May 15, 2014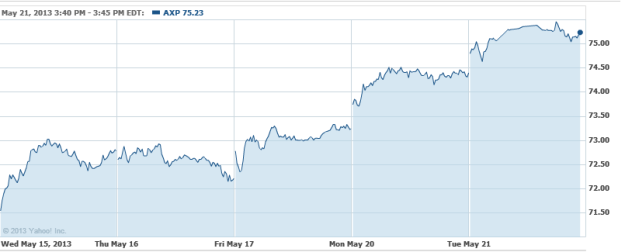 Don't Miss: Will $6.5 Billion Dividend Brighten GE Stock?