Boeing's 777X Project Offers Enticing Economic Perks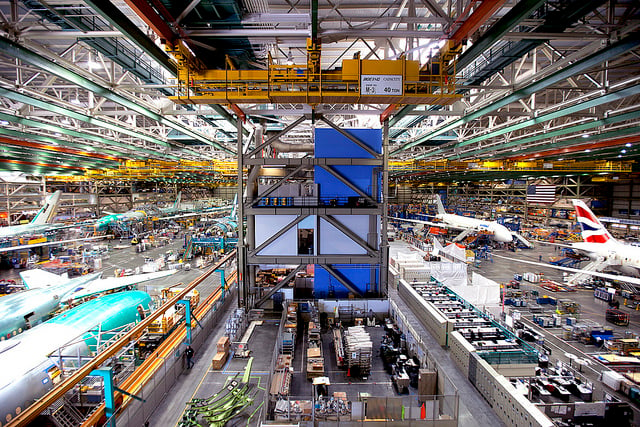 On November 17, Boeing (NYSE:BA) officially launched the 777X program at the 2013 Dubai Airshow, with a record number of customer orders and commitments made for the jet manufacturer's latest twin-aisle aircraft. According to a company press release, it was the "largest product launch in commercial jetliner history by dollar value." The 777X — which boasts the largest engines ever put on a plane and key costs-saving technologies that could change trends in modern aircraft design — is considered a pivotal to Boeing's future profitability and a crucial component in the company's fight against Airbus for dominance in the long-range, twin engine market.
But likely, the jet will not be built in Washington state, Boeing's traditional manufacturing base. When a strong majority of Boeing machinists rejected an eight-year labor contract extension that would have ensured production of key components for the company's new plane would have remained in Washington, other states were given an opportunity to make bids. After the contract proposal was rejected, Boeing decided "look very broadly" at where else the aircraft could be built.
Governors of a dozen or more states are crafting offers with incentives to convince the jet manufacturer to move the 777X production line out of Washington where the current model of the twin-aisle aircraft is manufactured. Losing the 777X program would cost the state a great deal of money. In the past year, 777 manufacturing generated $20 billion in economic activity and 56,000 jobs. To secure the 777X project, the state passed a bill authorizing $8.7 billion in tax breaks for the company, and the hope is that Boeing will still chose Washington even though members of the International Association of Machinists voted down the contract extension. Alex Pietsch, the state's aerospace director, told Bloomberg that Washington Governor Jay Inslee and Boeing are working to "see if a deal can't be resurrected." But he admitted Boeing is "going out and testing the waters," which in his opinion is reasonable. "I don't blame them for that. Is it frustrating for me personally? Sure, because we've been working really hard on this deal for a long time."
The agreement would have given thousands of members of the International Association of Machinists an estimated 20 years of work building the 777X. But because the contract would have terminated union's pension plans and increased healthcare costs, the machinists deemed those giveaways too harsh to accept. "The politicians want to preserve jobs in Washington, and they want us to keep talking with Boeing," the union's District 751 President Tom Wroblewski wrote  in a November 27 statement."I've told them that's what you want too, but any further conversations with Boeing must be based on the idea that we're building on the contract we have today, not tearing down decades of progress," he said.
Both Missouri's Democratic Governor Jay Nixon and Republican Governor Robert Bentley of Alabama are preparing proposals to be submitted by the December 10 deadline set by Boeing. On December 2, Nixon called a special session of the state's general assembly in order to pass a package that would add $150 million annual to Missouri's economic-development programs. Meant to be an incentive for Boeing to set up 777X production, the funds would be used to train workers and improve infrastructure, according to the governor's office.
A majority of state senators voted in favor the measure on Wednesday, and Nixon thanked them for "working quickly and efficiently to pass this bipartisan legislation that will put Missouri in a strong position to win the Boeing 777X and create thousands of new high-paying jobs across [the state]." Boeing's defense business is already headquartered in Missouri, where the company employs 15,210 individuals. If the state does win the Boeing contract, opportunities would be available for those workers at risk of losing their jobs once the company ends production of the C-17 military transport jet in late 2015.
Meanwhile, Bentley met with Boeing representatives last month in the hopes of bringing production to Huntsville. "I am not saying we are going to get it, but let me tell you, they do like Alabama," Bentley said in a speech after the meeting. "Alabama is extremely interested in having the Boeing 777X production in our state," Bentley's spokesperson said in a statement. "Alabama will aggressively pursue the Boeing 777X project."
Once all proposals are submitted, the company "will look all things over and make our decision early next year," as spokesperson Doug Alder told Bloomberg. Contrary to what Pietsch's comments indicated, Alder said the jet manufacturer has not resumed talks with the union. "Neither side has initiated further discussions," Alder said. A site for parts fabrication, fuselage build, paint, and delivery of the 777X is needed, according to the spokesperson. A plant for making and assembling the plane's composite wing is needed as well.
Potential locations include Long Beach, California, where production of the C-17 is winding down; San Antonio, Texas, where military aircraft are overhauled; Salt Lake City, Utah, where Boeing manufactures composites; and, Charleston, South Carolina, already home to a commercial jet production. In fact, before Boeing announced the contract extension for Washington's machinists, it was speculated South Carolina would be home to the 777X production line.
Still, "it would have been a big benefit for the company to continue the 777 line in Everett," Washington, wrote Jefferies aerospace analyst Howard Rubel in a November 15 research note seen by Bloomberg. "And it still might, given certification and capital demands. We expect the wing will not be built there." After all, the wing of the 777X will be the largest ever built by Boeing.
But, in his opinion, Long Beach and Salt Lake City are also reasonable options. Boeing's 777X is slated to begin production in 2017, the company will begin delivering orders in 2020.
Follow Meghan on Twitter @MFoley_WSCS
Don't Miss: American Airlines Investors to Make Big Bucks on Merger.