Boeing's 787s Start Battery Installation and 2 More Dow Movers to Watch
The Boeing Company (NYSE:BA): Current price $91.01
United Continental Holdings  (NYSE:UAL), which is the sole domestic carrier to operate Boeing's 787, has transported the first of its Dreamliners to a Texas facility for the installation of a new battery system that United States regulators okayed last week. The plane was flown by three United pilots from Los Angeles to Kelly Field in San Antonio, according to United spokeswoman Christen David to Bloomberg, adding that  United is collaborating with Boeing on a timetable for installing the battery system on its other five Dreamliners.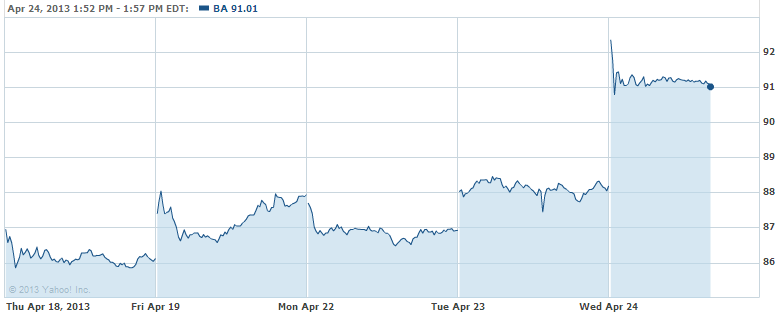 AT&T (NYSE:T): Current price $36.88
AT&T has announced a $1 million donation to the One Fund Boston, along with the creation of a toll-free number for One Fund, 855-617-FUND, so that victims can make direct contact and learn how to request support. This number began taking calls at 12 p.m. Eastern Time on Wednesday.  AT&T customers who would like to support One Fund Boston can text BOSTON to 80108 to donate $10, which sum will be charged on their monthly AT&T bill. In the past four days, customer text donations have surpassed $25,000, and represent almost half of all wireless customer text donations to the One Fund.

Chevron Corporation (NYSE:CVX): Current price $118.48
Chevron reported further drilling success by its Australian subsidiary in the Exmouth Plateau area, lying in the Carnarvon Basin. The Elfin-1 exploration discovery well encountered about 132 feet of net gas pay in the upper Mungaroo sands, and is Chevron's 21st find offshore western Australia since mid-2009. Located in the WA-268-P permit area, the well is roughly 106 miles northwest of Barrow Island, and was drilled in 3,570 feet of water to a total depth of 11,909 feet.

Don't Miss: Gasoline Prices Trend Lower Even As Demand Rises.