Boeing's Bad News Will Follow it to Earnings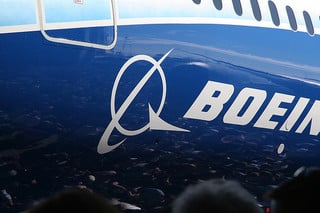 Boeing (NYSE:BA), mired in Dreamliner drama, will report earnings next week. Even with the public relations nightmare and the tense contract negotiations with a labor union factored out, expectations aren't that high. Analysts are forecasting a 9.2 percent year-over-year decline in net income to $1.19 per share, on a 14 percent rise in revenue to $22.36 billion.
Results falling in line with expectations would echo similar progress made by the company last quarter. That is, falling profit and rising revenue could become a trend. The company has nearly 800 orders for the Dreamliner worth nearly $200 billion sitting on the table. But Boeing has already invested $32 billion to develop the plane, and the battery fiasco could push the company into a costly rut. An expected production ramp could also be delayed because of the issues.
Boeing will head into next week's earnings report with a number of bad news bears in tow. A conference call later in the day will probably yield some Q&A about the ongoing investigation, but it seems unlikely that Boeing would wait until the call to reveal good news, and even more unlikely that it would willingly reveal any bad news that it didn't have to. Speculation has grown since fleets of the 787 were grounded around the world, and the cost to carriers like United Air Lines (NYSE:UAL), which has six Dreamliners, is growing. It's unclear what, if anything, Boeing will be held liable for…
On Thursday, Boeing issued a pretty dry update on the investigation by the U.S. National Transportation Safety Board. Aviation safety officials around the globe are in high gear, but so far nothing useful has emerged. It sounds like the lithium-ion battery is at fault, but investigators are unsure why. Overcharging was ruled out by a number of officials after testing, and the search has spread to a number of different electrical-systems suppliers, such as United Technologies (NYSE:UTX).
While everyone waits with bated breath to figure out who they can point their fingers at and blame for the whole mess, Reuters reports that a number of whistleblowers, who tried to raise safety concerns about the battery six years ago, have made their way into the media spotlight. Kelly Nantel, NTSB director of public affairs, confirmed the NTSB was pursuing information provided by "more than one" whistleblower, but reportedly decline to comment further. At least one whistleblower suggests that the charger could be to blame.

Don't Miss: Can Lockheed Win Against the U.S.?