Boeing's Big Opportunity, TSMC's Strong Quarter, and 3 More Hot Stocks
Boeing Co. (NYSE:BA): Boeing believes that Latin American countries — other than Brazil — could order over $10 billion worth of space and defense equipment over the next few years, company executive Roberto Valla has said, with Chile, Colombia, Mexico, and Peru leading the demand. "Those are not the only countries where we see opportunities, but we do see at least in the near term, probably the greatest needs in those four customer communities," Valla noted, adding that he sees the value of the potential deals to fall anywhere between $10 and $100 billion.

Taiwan Semiconductor Manufacturing Company (NYSE:TSM): TSMC's stock is up, after reporting that its third quarter net profit rose 5.2 percent to 51.95 billion Taiwan New dollars ($1.77 billion), beating the consensus of 51.71 billion. Earnings were led — again — by demand for high-performance chips from smartphone and tablet manufacturers. Revenues surged 14.9 percent to a record 162.58 billion. The gross margin came in at 48.5 percent, operating margin at 36.7 percent, and the net-profit margin 32 percent.

Diageo plc (NYSE:DEO): Diageo shares are trading up, although net sales were flat, due to the termination of the company's distribution agreement with Jose Cuervo. However, organic net sales grew 3.1 percent, with volume up 0.6 percent. North America rose 5.1 percent, Western Europe  slid 1.1 percent, Africa, Eastern Europe and Turkey  grew 1.3 percent, Latin America and the Caribbean surged 10.9 percent, while Asia Pacific mustered 0.6 percent.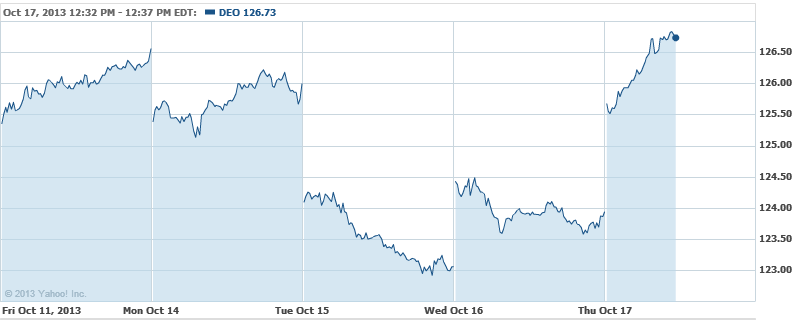 SUPERVALU Inc. (NYSE:SVU): Supervalu's EPS of $0.13 beat estimates by $0.03 as revenue of $3.95 billion also passed expectations by $0.07 billion. The company says it earned $62 million in fees derived from transitioning Albertsons and New Albertsons. Same-store sales at Save-A-Lot fell 0.3 percent during the period.
Amarin Corp. (NASDAQ:AMRN): Amarin shares crater to the tune of 60 percent as an FDA panel voted 9-2 against recommending expanding the approval of the company's triglyceride Vascepa drug. Although it keeps a Buy rating, Jefferies cuts its price target on Amarin to $4 from $20. "We see a financing overhang, reduced partnership potential, and a delay to data," the analyst said. "We will revisit our rating based on today's trading and as the company's financing strategy becomes available."

Don't Miss: Boeing's Dreamliner Hits New Problems in India's Skies.