Boeing's Courting of The FAA and 4 Other Hot Stocks
Boeing (NYSE:BA) may reportedly carry out its Federal Aviation Administration-supervised test flight for the 787 Dreamliner on Friday, in efforts to move ahead with getting approval to lift the grounding on the 50 jets that are in service, and costing Boeing millions per week to keep on the tarmac. The FAA must deem the new lithium-ion battery systems safe before the planes can again be used for commercial use. "As a matter of long-standing policy Boeing does not provide advance notice of flight test activities until we have filed flight test plans," Boeing spokesman Marc Birtel told Reuters when asked about a possible test flight on Friday, Retuers said.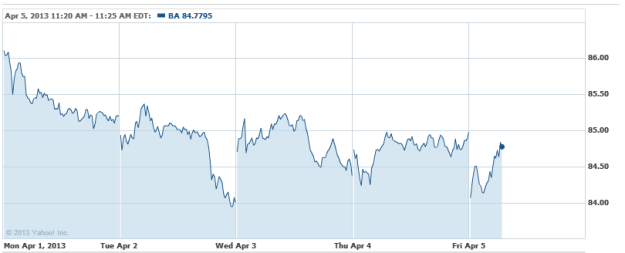 Announcement of its partnership with Samsung (SSNLF.PK) sent Best Buy (NYSE:BBY) shares soaring to the highest levels that the company has seen in over a year, riding on positive response to the company's strategic move, which will supposedly bring about the end of "showrooming," where consumers will browse in-store, only to purchase the products online later. Samsung aims to place 1,400 "mini-stores" inside Best Buy locations nationwide by June.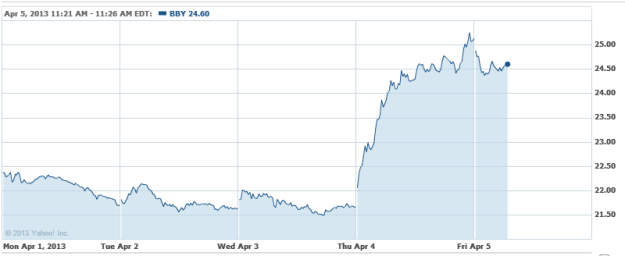 Efforts to cut costs and the results of an internal audit have moved Disney (NYSE:DIS) to plan layoffs in the near future, both at its studio and consumer product divisions. Numbers or exact dates were not made available. The newly-acquired Lucasfild LTD and its subsidiary, LucasArts, will also be up for job cuts, as the company increases efforts to trim costs.
Credit Suisse said that the appointment of Ralph Whitworth to replace Ray Lane as interim chairman of Hewlett-Packard (NYSE:HPQ) "points [to] a more fiscally conservative and shareholder friendly board as the debt burden ebbs," while others see the move as giving president Meg Whitman "a clearer path to revive growth and shake off years of tumult at the world's largest computer maker," according to Bloomberg. Two other directors stepped down on Thursday, due to fallout from the company's botched acquisition of software maker Autonomy.

Fast-food chain Wendy's (NYSE:WEN) shares slid this morning in pre-market trading, following some pokes made by Jim Cramer on NBC's episode of Mad Money last night, where he distinctly chose McDonald's (NYSE:MCD) and Panera (NASDAQ:PNRA) over the caller's question regarding Wendy's. Additionally, Janney Capital's main restaurant analyst shorted his same-store sales estimate from 2 percent to 1.5. At 11:10 AM EST, Wendy's stock was down 2.63 percent.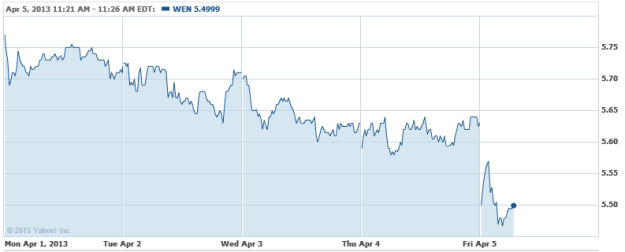 Investing Insights: Can Exxon Mobil Move Higher?