Boeing's Grounding Nears End and 2 More Dow Movers to Watch
The Boeing Company (NYSE:BA): Current price $87.70
On Friday, two inside sources reported that Federal Aviation Administration approval to lift the 787 Dreamliner flight ban might come as early as this afternoon, Eastern Time. Meanwhile, investors sent Boeing's shares higher on word that regulators seemed poised to end a three-month grounding that cost millions of dollars and damaged the reputation of the world's biggest planemaker. However, one source said that at the time,  no final decision had been made.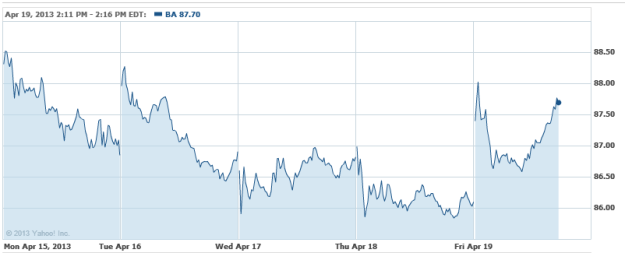 Chevron Corporation (NYSE:CVX): Current price $116.26
Amounts of corrosion to an extent like that on the pipe that failed and caused a large fire at Chevron's Richmond facility, have been uncovered by tests of pipe samples from the El Segundo refinery, said a report released on Thursday. The evaluations found as much as 60 percent wall loss in a pipe at the El Segundo refinery that processed the same type of crude as its peer facility in Northern California, reported the United States Chemical Safety Board and California Division of Occupational Safety and Health. However, Chevron had voluntarily inspected the pipes at El Segundo subsequent to the August 6 fire in Richmond caused by a corroded, 1970s-era pipe.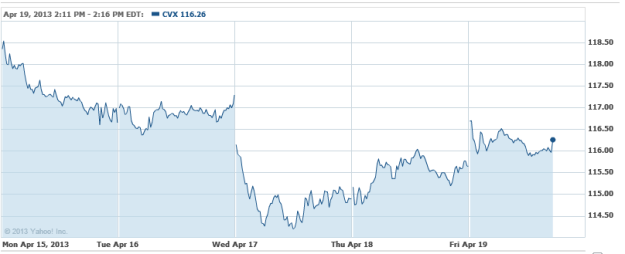 McDonald's Corporation (NYSE:MCD): Current price $99.93
In results for the first quarter, the top hamburger chain on earth reported that it had failed to improve  sales with its Dollar Menu, even though it did generate a higher quarterly profit overall. On Friday, McDonald's reported that an important sales metric dropped by 1 percent during the period and it also warned that it is expected to slide once again in April. The results represented the first quarterly decline in ten years in sales at restaurants that have been open at least 13 months, and reflected the troubles the firm has been facing.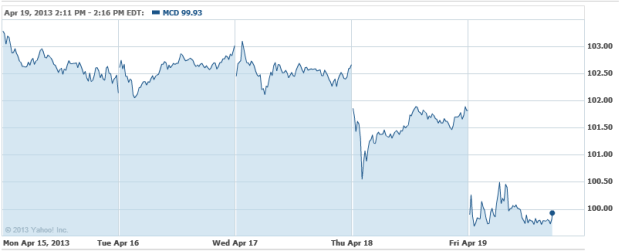 Don't Miss: Did These Numbers Scare Blackstone Away From Dell?