Boeing's Navy Confusion, Kellogg's Soft Quarter, and 3 More Hot Stocks
Boeing Co. (NYSE:BA): The U.S. Navy reportedly posted a notice about a possible order of up to 36 more Boeing F/A-18 fighter jets or EA-18G electronic attack planes due to "pre-decisional and internal budget discussions" mistakenly, a top Navy admiral said. The notice spread confusion given that the Navy is scheduled to switch to Lockheed's F-35 fighter jet after fiscal 2014. "We took immediate actions and retracted the solicitation," said the admiral, who oversees the Navy's aviation programs, though he did not address the Navy's position on the F-35 program, according to Reuters.

Kellogg Co. (NYSE:K): Shares are up over a full percent despite a weak quarterly report, which saw North American sales fall 1.3 percent to $2.4 billion. Kellogg's profit narrowed some during the quarter, as the cost of goods remained elevated but segments across the board posted soft sales. Additionally, Kellogg will cut nearly 7 percent of its workforce over the next three years and take a pretax charge of $1.4 billion as a result.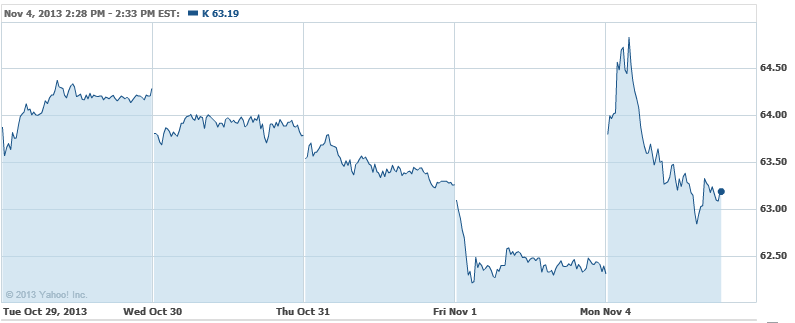 Johnson & Johnson (NYSE:JNJ): Johnson & Johnson will reportedly be paying around $2.2 billion so settle Risperdal marketing claims, which includes allegations that include off-label marketing and physician kickbacks for the Risperdal, Invega, and Natrecor treatments. Buried in the lump sum are $485 million in criminal fines and $1.72 billion in civil settlements.
Sirius XM Radio Inc. (NASDAQ:SIRI): Sirius has completed the acquisition of the connected vehicle services company Agero, which should allow Sirius the "opportunity to provide services to more major automobile manufacturers," Seeking Alpha notes. "With this acquisition, SiriusXM will provide connected vehicle services to a host of major automotive manufacturers," the statement says. "SiriusXM's offerings will include safety, security and convenience services for drivers and end-to-end, turnkey solutions for automakers."

Netflix Inc. (NASDAQ:NFLX): Netflix is reportedly in advanced discussions to obtain the rights for the highly acclaimed film The Square, a documentary about the recent Egyptian unrest, which would make for the company's first foray into original documentaries. The movie — fresh off the heels of Netflix content chief Ted Sarandos's recent upstart speech — would be released in a similar fashion to its hit shows like Orange is the New Black and House of Cards.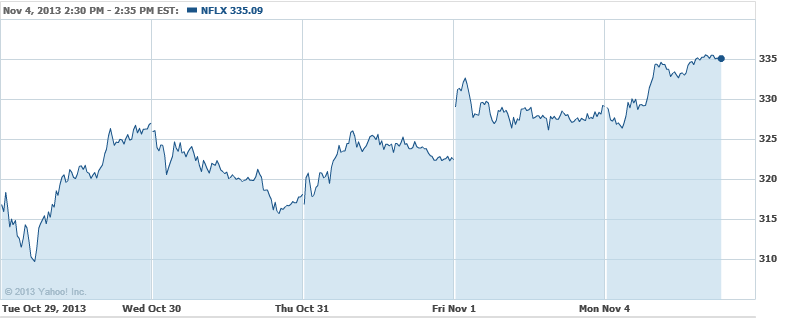 Don't Miss: Will Seat Width Impact Boeing and Airbus's Future Success?