Boeing's New Offer Leads to Discord in Machinists Union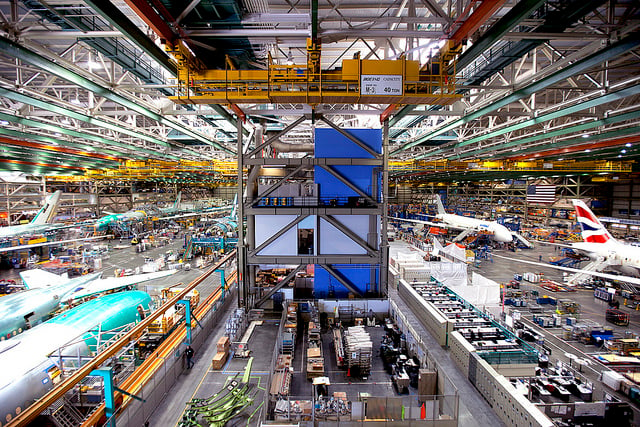 The Washington state machinists union and Boeing (NYSE:BA) remain far apart in contract talks that would keep the aerospace manufacturing giant in the state, even after Boeing offered what it calls the "best and final counterproposal" earlier this week. However, machinists in the union are not united in their hard-line stance against Boeing, leading to two factions with differing ideas on how to approach the current situation.
"People are really looking at this as a make-or-break situation," Adam Subitch, a 27-year-old painter on the 777 line in Everett, tells the Seattle Times. "A lot of people are angry… A lot of us would appreciate the chance to choose our own future."
Subitch wants the opportunity to vote 'yes' on Boeing's rejected offer and is part of a group that is at odds with local leadership's unyielding views toward Boeing's contract offers. This group, which includes officials from the national headquarters, fears that if Boeing were to move its 777X production to another state, it would lead to massive job losses within a decade. This side is ready to endorse the eight-year contract extension to ensure future work.
But union members on the opposing side of the argument — a faction that includes local leadership — remain unwilling to give up gains earned in the past for concessions on pay and benefits. Wilson Ferguson, a 26-year company veteran who is president of the union's Local A and works as a 737 delivery mechanic at Boeing Field, tells the Seattle Times that employee pensions remain the sticking point and was unchanged in Boeing's most recent proposal.
"I believe Boeing when they say they are going elsewhere… I don't like it, but it's ludicrous to put that burden on the hourly workforce," Ferguson tells the Seattle Times. "It's just a bridge too far to ask us to give up our defined benefit-pension plan."
And for Ferguson, the biggest issue is Boeing's insistence on concessions from machinists when the company enjoys record highs in a variety of areas. "If the company was in any way hurting, we would consider making some concessions," he explained. "That's just not the case… Record profits. Record sales. Stock price is through the roof."
The divided leadership has led to immense strain between local union officials and representatives of the union's headquarters, dubbed "the International" because union members are located in the U.S. and Canada. The International points to two issues as the source of distant sides in the union: securing future work versus protecting a prosperous retirement. "It's logical there will be differences," says Frank Larkin, spokesman for the International in Washington, D.C.
Aside from extending the contract through 2024, Boeing's new contract removed its proposal to slow the wave growth of new hires while keeping "the zoom" — an employee benefit in which six years of work leads to the top of their pay grade. But the $10,000 signing bonus and a $5,000 bonus in 2020 aren't likely to impact older machinists who could easily be retired by that time. As the Seattle Times explains, the issue of pension remains a "sacred" subject that is unlikely to draw concessions from older union members.
Don't Miss: Get Ready to Say Hello to More Expensive Flights.