Boeing's Strong Quarter, Dr Pepper Snapple's Mixed Results, and 3 More Hot Stocks
Boeing Co. (NYSE:BA): Boeing shares are rising as the aircraft manufacturer reports earnings per share of $1.80, soundly beating by 25 cents, and revenue of $22.1 billion, which also beat, by $0.44 billion. The company logged $27 billion in orders during the third quarter, while the backlog expanded from a record $410 billion to $415 billion. The core margin grew by 70 bps; Military Aircraft slid 5 percent, Network & Space Systems grew by 9 percent, and Global Services & Support surged 10 percent.

Dr Pepper Snapple Group (NYSE:DPS): Dr Pepper's EPS of 88 cents beat projections by 5 cents as revenue of $1.54 billion missed slightly, by $0.03 billion. Sales volume dropped by 1 percent during the third quarter, as both beverage concentrates and packaged beverages fell below last year's levels; even net sales from Dr Pepper's Latin America division that packed on a 12 percent gain for the period didn't quite offset.

General Electric (NYSE:GE): In further efforts to divest more noncore assets, GE has agreed to sell its power rental business to APR Energy for $314 million in cash and stock, effectively making it a strategic investor in the temporary power provider. Under the terms, GE will take in $64 million in cash and 15.5 million APR shares valued at around $250 million.
US Airways Group (NYSE:LCC): EPS of $1.16 beat projections by 4 cents; revenues of $3.85 billion also beat, by $0.02 billion. Total operating expenses rose 5 percent during the period, to $3.4 billion. The airline also saw a 4.1 percent increase in total available seat miles, with total revenue per ASM at a record 15.97 cents, up 4.9 percent versus the same period last year.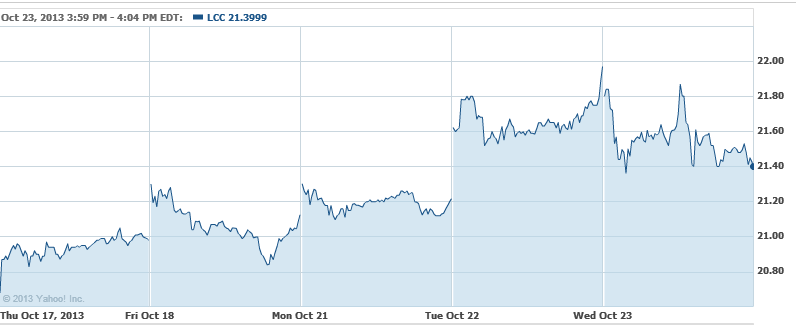 Caterpillar Inc. (NYSE:CAT): Caterpillar shares are sinking as the company reports EPS of $1.45, missing by 23 cents, and revenue of $13.42 billion, which fell off the mark by $1.07 billion and represents an 18 percent fall over the same quarter a year ago. "Not only is mining down from 2012, the demand for equipment has been difficult to forecast," CEO Doug Oberhelman noted. "Orders for new mining equipment began to drop significantly in mid-2012 and have continued at very low levels."

Don't Miss: Has Boeing Reached Cruising Altitude?