BofA Attorney Likens Countrywide Trial to Alice in Wonderland and 2 Other Hot Stocks to Watch
Bank of America Corp. (NYSE:BAC): Current price $14.31
Bank of America attorney Brendan Sullivan said Tuesday that the United States government has not brought any evidence to demonstrate that the bank's Countrywide unit committed mortgage fraud in the run-up to the financial crisis, remarking that, "We've been dragged down the rabbit hole into Alice in Wonderland." Sullivan's comments came at the end of a four-week trial in which the government accused Countrywide of easing controls on mortgages in a process called "Hustle," and then deliberately selling the toxic loans created to the government-sponsored mortgage players, the Federal National Mortgage Association and the Federal Home Loan Mortgage Corp.

Corning Inc. (NYSE:GLW): Current price $16.84
Corning shares are up almost 12 percent Wednesday morning in heavy volume, after the company said that it would purchase Samsung Electronics Co.'s interest in their LCD panel joint venture in a transaction that could end up with the South Korean company taking a 7.4-percent share in manufacturer of Gorilla Glass. Included in the deal is a new LCD display glass supply accord between the forms running through 2023 that will add some$2 billion to Corning's annual sales. Through the terms, Samsung will receive convertible preferred shares with a face value of $1.9 billion, and will make an additional $400 million investment in Corning by subscribing to new convertible preferred shares.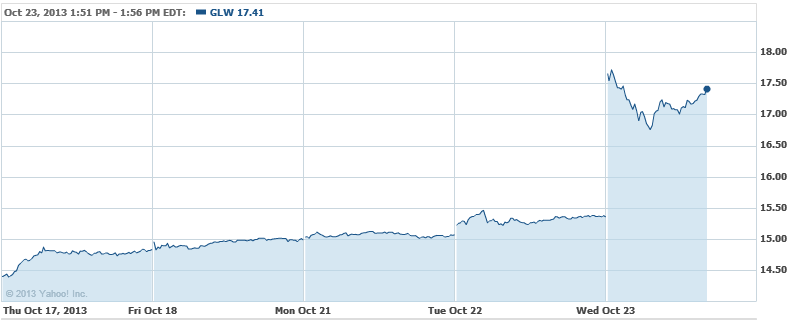 Cole Real Estate Investments Inc. (NYSE:COLE): Current price $13.97
American Realty Capital Properties is acquiring Cole Real Estate Investments for roughly $7 billion, forming a transaction that will create one of the biggest commercial real estate investment trusts in the United States. Cole shares are up some 8 percent Wednesday, in extremely heavy trading as it went along with the deal after turning the buyer down twice this year. The company rejected a raised $6.7 billion offer in March and then listed itself on the New York Stock Exchange in June.

Don't Miss: Did the Housing Market Ignore Government Shutdown?