BofA Confirms China Construction Bank Divestiture and 2 More Heavily Traded Stocks to Follow
Bank of America Corp. (NYSE: BAC): Current price $14.32
In a statement, Bank of America has confirmed the reported arrangement to divest its remaining equity in China Construction Bank Corp. The Charlotte-based firm said that the stake, amounting to 2 billion shares, represents 1 percent of all outstanding shares of the bank, which is headquartered in Beijing. The seller forecasts the transaction to contribute a pre-tax gain of roughly $750 million in the third quarter, but that the profit from this sale could be impacted as a result of accounting adjustments connected with the fair value option and debit valuation adjustments.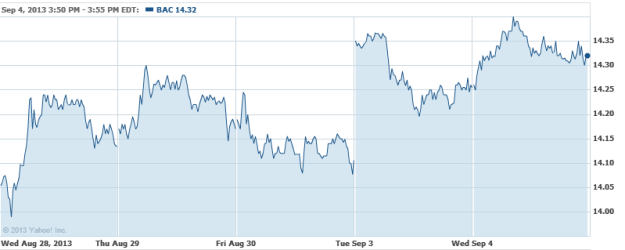 Verizon Communications Inc. (NYSE:VZ): Current price $46.90
Even though Verizon will not participate in the forthcoming auction of wireless spectrum in Canada, the rules will not be altered, according to Industry Minister James Moore on Wednesday. Canada is selling off four blocks of especially valuable wireless spectrum in January. However, the Conservative government, which wants to foster competition, says that the big three Canadian telecommunications firms can only bid for one of the blocks while new entrants may try for up to two. Ottawa wanted a major company such as Verizon to enter the Canadian market, which would probably have boosted bids while also potentially pushing down prices for consumers.

Cisco Systems Inc. (NASDAQ:CSCO): Current price $23.85
Cisco has been chosen as the recipient of the 2013 Global Frost & Sullivan Award for Customer Value Enhancement, which is based on Frost & Sullivan's Vision of the future of manufacturing and Production 2.0 research that identified the Top 50 Game Changers in manufacturing hardware and software. The Visi-MAP 2.0 initiative centers on the key convergence of critical Mega Forces that permit manufacturers to innovate, design, and drive next-generation manufacturing best practices, employing this platform to identify firms which refuse to take a ringside spectator view of industry developments and instead, lead in the visionary innovation process.