BofA Finalizes Its Merrill Lynch Merger and 2 Other Hot Stocks to Watch
Bank of America Corp. (NYSE:BAC): Current price $13.91
On Tuesday, Charlotte-based Bank of America announced that it has finalized the merger of its Merrill Lynch & Co. subsidiary into itself. The bank previously stated that it was thinking about merging Merrill Lynch directly into Bank of America Corp. as soon as the fourth quarter. The merger does not affect the Merrill Lynch name and brand, and will have no impact on customers or clients. Subsidiaries of Merrill Lynch & Co., Inc. will continue to operate under the Merrill Lynch name and brand. Bank of America's primary broker-dealer, Merrill Lynch, Pierce, Fenner & Smith, along with its non-United States broker-dealer entities will continue to operate under their current names and brands as well.

Sirius XM Radio Inc. (NASDAQ:SIRI): Current price $3.93
SiriusXM's Town Hall with Jim Cramer, hosted by the stand-up comedian SiriusXM's Pete Dominick, who has opened up for Cramer on his Mad Money Back to School Tour, will debut on Friday, October 4 at 7:00 p.m. Eastern Time on Indie via satellite on SiriusXM channel 104 and via the SiriusXM Internet Radio App on smartphones and other connected devices, as well as also online. Encore presentations will air on October 6 at 7:00 a.m. and 4:00 p.m. on Indie.

Micron Technology Inc. (NASDAQ:MU): Current price $17.55
Micron shares touched a new 52-week high of $17.95 on Friday, eventually closing at $17.62. The stock is up by about 1.5 percent Tuesday on heavy volume. Friday's closing price marks a whopping one-year return of 205.37 percent and year-to-date return of 165.76 percent. The firm has recently reported that it has shipped 2GB Hybrid Memory Cube engineering samples, which provide 160 gigabytes of memory bandwidth and uses roughly 70 percent less energy per bit than do the present technologies. These features should help Micron's customers to reduce their tech costs. Beyond that, the company has unveiled its new replay-protected monotonic counter feature for serial peripheral interface NOR Flash memory devices, facilitating secure data storage.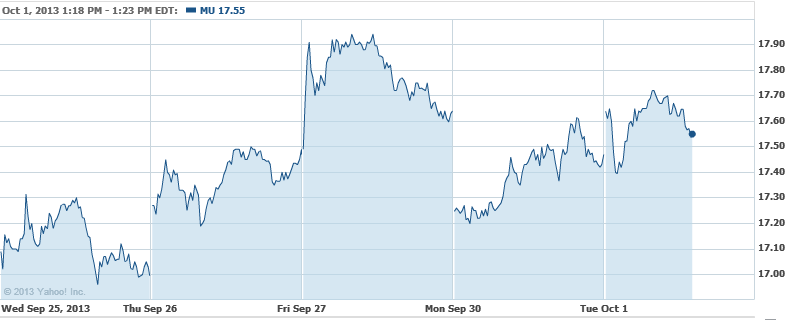 Don't Miss: Is Debt Ceiling Drama a Bipartisan Effort?