BofA Heads to Trial Over Countrywide, Fannie Mae & Freddie Mac and 2 More Heavily Traded Stocks to Follow
Bank of America Corp. (NYSE:BAC): Current price $14.14
This week, Charlotte-based BofA goes to trial about allegations that its Countrywide division okayed deficient home loans in a process named "Hustle," allegedly defrauding Fannie Mae and Freddie Mac. This will mark the government's first financial crisis case to go to trial against a major bank in regards to defective mortgages, and jury selection is ready to commence in federal court in New York on Tuesday, assuming no last-minute resolution. This trial brings to mind the billions of dollars in legal liabilities that Bank of America has incurred resulting from its 2008 purchase of Countrywide Financial Corp.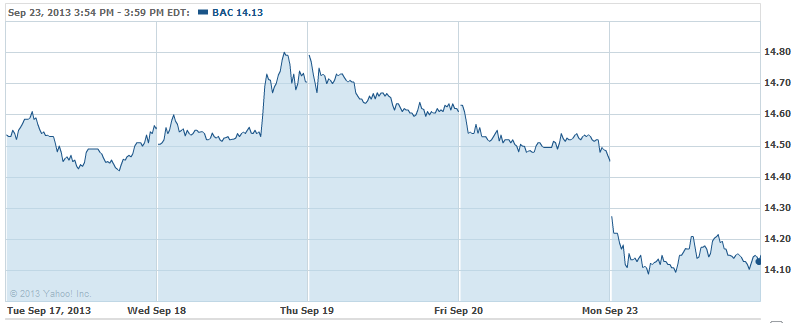 Facebook Inc. (NASDAQ:FB): Current price $47.19
Facebook will now go farther in understanding the 700 million persons who employ the social network through which to share details of their personal lives daily. A new research group inside the firm is developing an emerging and powerful approach to artificial intelligence called deep learning, which uses simulated networks of brain cells to process data. Putting this method to data shared on Facebook might permit novel features and maybe reinforce the company's ad targeting.
General Motors Co. (NYSE:GM): Current price $37.13
GM says that it will buy 120 million shares of its preferred stock back from the UAW Retiree Medical Benefits Trust for approximately $3.2 billion, or $27 per share. The automaker will finance the repurchase via the offering of senior unsecured notes in 5, 10, and 30-year maturities. In the meantime, Moody's Investors Service has upgraded General Motors from Ba1 to its investment grade rating of Baa3, explaining that General Motors' new products in the United States, growing dominance in the Chinese automobile market, and commitments to maintain liquidity were the main reasons for the upgrade.
GM Chairman and Chief Executive Dan Akerson observed in a company release that, "Good things happen when you build great cars and trucks and deliver strong financial results. Today's news from Moody's further underscores that this is exactly what we are doing today."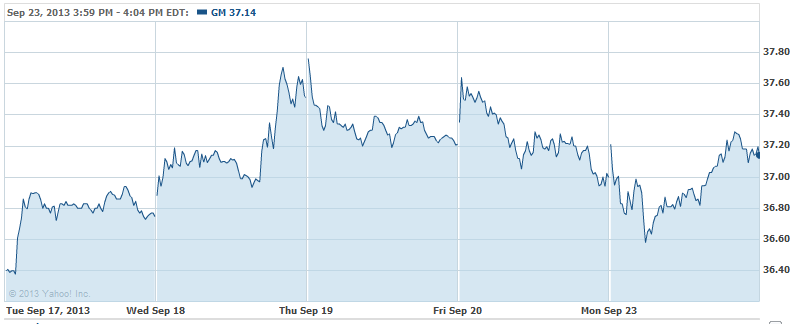 Don't Miss: CBO: We Have a Tax Problem, Not a Spending Problem.