BofA Licenses the SWIFT MyStandards Product and 2 Other Dow Movers to Watch
Bank of America Corporation (NYSE:BAC): Current price $12.93
On Thursday, Bank of America Merrill Lynch said that it has licensed the SWIFT MyStandards product, which is an innovative web-based application created to make the management of global standards and market practices across the financial industry easier. At first, BofA Merrill will use MyStandards for its custody message expansion program, which should broaden the instruction and reporting messages employed by clients, agents, and internally across BofA Merrill Global Transaction Services business lines through which to facilitate added straight through processing.

Johnson & Johnson (NYSE:JNJ): Current price $86.79
The company on Thursday announced the inauguration of the Johnson & Johnson Innovation center in Boston, which is now third of four regional hubs being formed in the world's top life science hotspots. The goal of the Center is to promote healthcare by catalyzing collaborations in science and tech between regional innovators and the Johnson & Johnson Family of Companies, throughout a diverse spectrum of early-stage opportunities. Also on Thursday, Johnson & Johnson Innovation announced the Boston Innovation Center's first collaborations and new initiatives, among which include new relationships with big-name academic researchers and emerging biotech firms, as well as funding in support of the requirements of the next generation of startup life science ventures.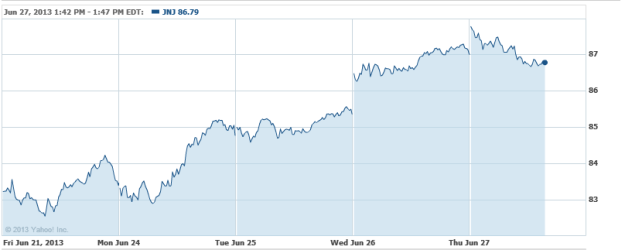 Pfizer (NYSE:PFE): Current price $28.53
Pfizer has announced the final results of its offer to its shareholders to exchange all, some, or none of their shares of Pfizer common stock for shares of Zoetis  common stock owned by Pfizer. The offer expired at 12:00 midnight, Easter Time, on Friday. Though the terms, 0.9898 shares of  Zoetis common stock were exchanged for each share of Pfizer common stock accepted in the offer. Pfizer accepted 405,117,195 shares in exchange for the 400,985,000 shares of Zoetis stock owned by Pfizer.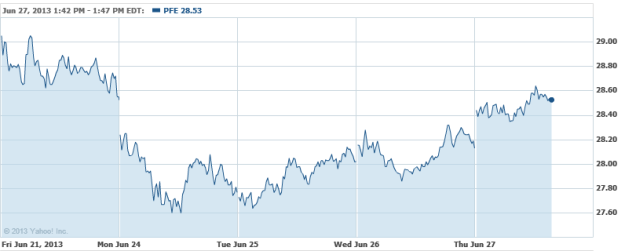 Don't Miss: Report: Americans are Short on Skilled Labor.