BofA Merill Lynch Introduces Cuenta Controlada in Mexico and 2 Other Dow Movers to Watch
Bank of America Corporation (NYSE:BAC): Current price $13.25
On Thursday, Bank of America Merrill Lynch announced that it has introduced Cuenta Controlada, or Controlled Account, services in Mexico for transactions involving Mexican pesos and United States dollars. Juan Pablo Cuevas, chief of Global Transaction Services for Latin America and the Caribbean, said that Cuenta Controlada regulates the exchange of cash among multiple parties, based on agreed-upon contractual provisions as specified by a client, with BofA Merrill Lynch acts as an independent third party to receive, hold and subsequently disburse the funds.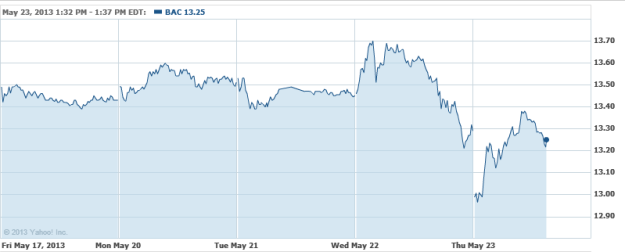 Exxon Mobil Corporation (NYSE:XOM): Current price $91.79
The Nigerian National Petroleum Corporation and an Exxon Mobil subsidiary say that they intend to access the bond market by 2016 so as to plug a funding deficit in their oil exploration joint venture. Exxon and the state-owned corporation operate a joint venture with a capacity in excess of 550,000 barrels per day of crude oil, condensate and gas liquids.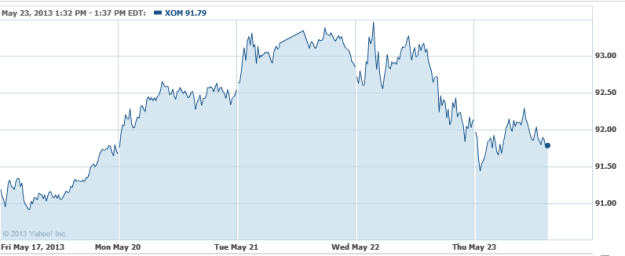 JPMorgan Chase & Co. (NYSE:JPM): Current price $53.31
The Wall Street bank said it has named Barry Sommers as chief executive of its consumer bank, which includes its wealth management division. Visa (NYSE:V) had earlier said that JPMorgan's current consumer banking chief, Ryan McInerney, had been chosen as its president. McInerney replaces President John Partridge of Visa, whose term ended on March 31. In a regulatory filing, Visa said that McInerney will receive an annual salary of $750,000.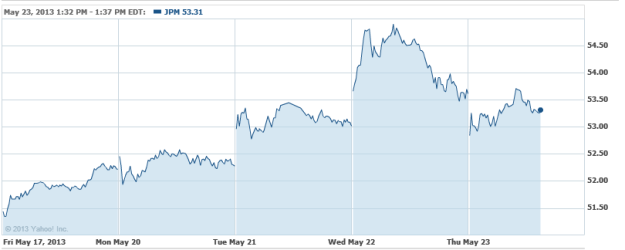 Don't Miss: Will Central Bank Stimulus Keep Manufacturing Alive?