BofA Merrill Lynch Promotes Investment in Gazprom and 2 Other Hot Stocks to Watch
Bank of America Corp. (NYSE:BAC): Current price $14.63
Russia's big gas exporter Gazprom gets a boost as BofA Merrill Lynch is advising its clients to consider an investment there. Strong demand for Russian gas in Europe, together with the potential for an arrangement to pipe gas to China supports what the investment bank says is a "compelling" valuation of Gazprom, which is reportedly trading on a 2014 price-to-earnings ratio of only 3.4, which is but a fraction of Exxon Mobil PE of 10.9.
Peabody Energy Corp. (NYSE:BTU): Current price $18.54
Peabody shares are up more than 5 percent Thursday in heavy volume, after the firm posted a surprise profit for the third quarter on adjusted terms, as shipments from its Australian mines jumped and its efforts to ring back costs helped blunt the impact of weak prices. Shipments from the firm's Australian mines increased by 6 percent to 9 million tons, while costs per ton dropped by 8 percent. Besides that, average unit costs fell by 3 percent at Peabody's domestic mines.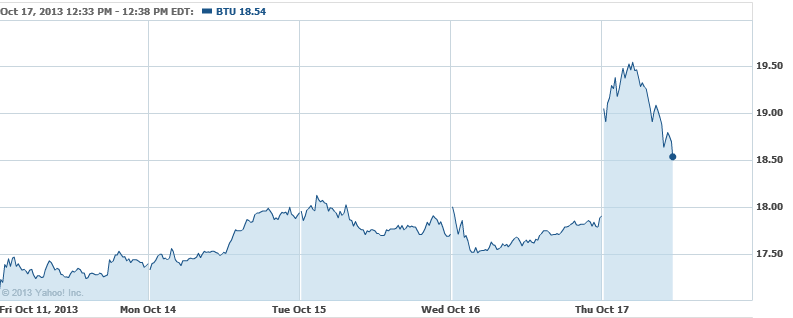 Pactera Technology International Ltd. (NASDAQ:PACT): Current price $7.06
China's number one tech outsourcing firm has agreed to be taken private by a consortium led by Blackstone Group for a price of $625 million, following a month of haggling over the sale price. Pactera at last agreed to an offer price of $7.30 per American depositary share, marking an 11.6-percent premium to the stock's $6.54 close on Wednesday. Shares are up nearly 8 percent at $7.05 Thursday in extremely heavy trading.

Don't Miss: This Fed President Blames Congress for 'Fiscal Mess'.