BofA Merrill Lynch Tt Participate In China Cinda IPO and 2 Other Hot Stocks to Watch
Bank of America Corporation (NYSE:BAC): Current price $13.16
Sources to IFR said Monday that four worldwide investment banks have commenced work on a planned initial public offering of China Cinda Asset Management Corp, which should occur in Hong Kong later in the year. The banks thus far have no official mandates or roles, but IFR, a Thomson Reuters publication, has named Bank of America Merrill Lynch, Goldman Sachs, Credit Suisse, and UBS as the firms who were formally working on the IPO as of last week. China Cinda, is one of the four asset managers that were established to manage bad loans in the late 1990s; the company has not made a final decision as to the venue or timing of the deal, but IFR says that if it chooses a single listing in Hong Kong, its application could be filed in August and the deal would take place later in 2013.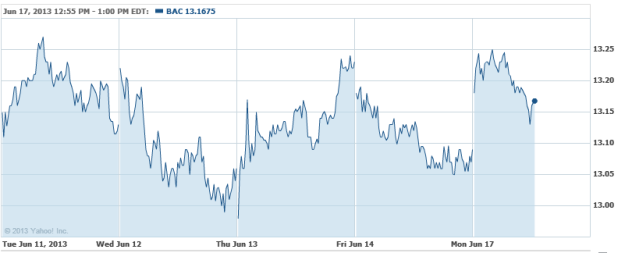 Facebook  (NASDAQ:FB): Current price $24.17
The Street reports that Facebook is summoning the media for a major product announcement on Thursday, as it invites attendees to "join us for coffee and learn about a new product." However, TechCrunch reported that the Facebook announcement would not pertain to an RSS reader as many have speculated, rather having to do with Instagram, the photo-sharing social network Facebook acquired in 2012. Sources predict that the event will be about Instagram getting video.

Ford Motor Company (NYSE:F): Current price $15.67
Ford Chief Executive Alan Mulally says that his company expects to see greater numbers of its vehicles exported from India, as the automaker plans to build more vehicles by employing global platforms, or chassis, to reduce costs and ramp up product development. Currently, Mulally is visiting the southern Indian city of Chennai prior to the debut of Ford's EcoSport compact crossover. The firm intends to export the EcoSport from Chennai to the European market, in which the vehicle will compete in an increasing, but crowded segment. Its launch should occur later this year.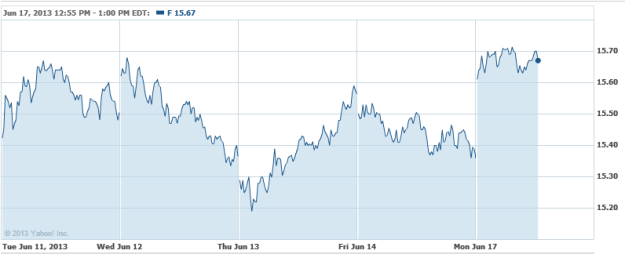 Don't Miss: 9 Cities for the Best Fixer-Upper Housing Bargain.