BofA Merrill Lynch Will Help Lead Chrysler IPO and 2 More Heavily Traded Stocks to Follow
Bank of America Corp. (NYSE:BAC): Current price $14.03
Bank of America Merrill Lynch has been selected by Chrysler Group LLC to help lead its initial public offering, along with JPMorgan Chase & Co., according to an inside source, who added on Monday that the IPO might price in December. Chrysler would not comment on the news, which was first reported by the Wall Street Journal.

Ford Motor Co. (NYSE:F): Current price $16.97
Ford researchers are experimenting with vehicles which produce up to 250 gigabytes of data per hour, that the company thinks it can use to reinforce its business and lower environmental impact. John Viera, global director of sustainability and vehicle environmental matters, commented that, "There are so many amazing possibilities to consider for the future impact of data," in a press release publicizing the automaker's efforts to employ Big Data, through which to "stay green." Ford debuted its Research and Innovation Center 15 years ago.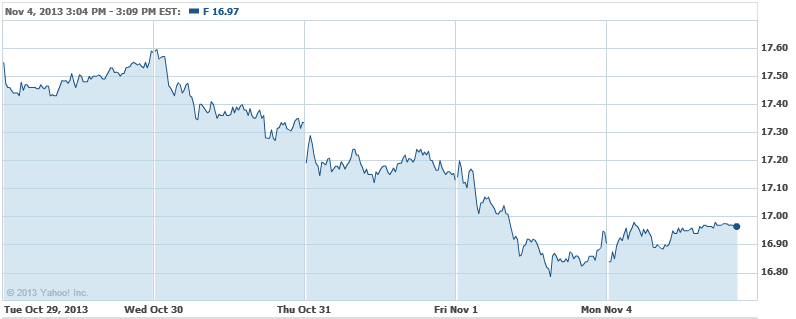 Alpha Natural Resources Inc. (NYSE:ANR): Current price $8.09
Shares are up by more than 8 percent Monday, after the coal miner said it will slash some 230 positions to cut costs. The job losses form part of a plan to reduce a minimum of $200 million in expenses for next year. Alpha said that it will not fill around 100 vacant positions as part of the action. On Thursday morning, the company posted its third quarter loss that was smaller loss Wall Street had anticipated.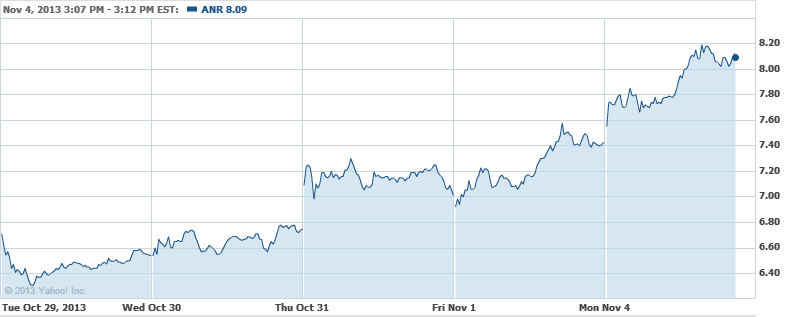 Don't Miss: Citigroup & JPMorgan: Wrapped Up in Another International Investigation.