BofA Reportedly Looking to Divest NY, PA Branches, and 2 Other Hot Stocks to Watch
Bank of America Corporation (NYSE:BAC): Current price $13.17
Knowledgeable sources report that BofA is searching out buyers for around 40 branches in New York and Pennsylvania. All told, the offices hold approximately $1 billion in deposits and might go for between $20 million and $30 million, said the reports, which specified that the branches are in rural locations in southeastern New York and northeastern Pennsylvania. Chief Executive Brian T. Moynihan has been closing or divesting outlets since 2011 so as to reduce costs and to focus on more populous markets, saying that the Charlotte-based firm requires fewer branches as people now do more banking online.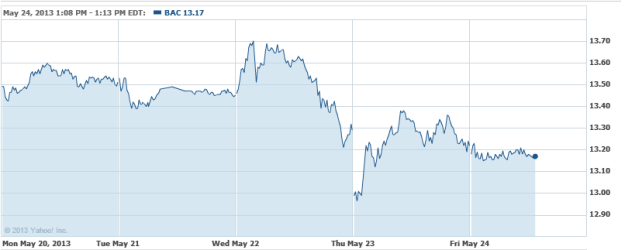 Hewlett-Packard Co. (NYSE:HPQ): Current price $24.25
On Friday, HP announced that Senior Vice president of Corporate Development and Corporate Financial Analytics Jim Murrin has been chosen to become treasurer, in addition to his current position, effective July 1. In this expanded role, Murrin will oversee the firm's global cash, foreign exchange, debt, capital structure, risk management and benefits-plan administration, along with performing his current duties, among which include assessing ongoing corporate development and company performance, establishing short- and long-term plans and helping to drive decisions on investment choices. He will still report to Executive Vice President and Chief Financial Officer, HP, Cathie Lesjak.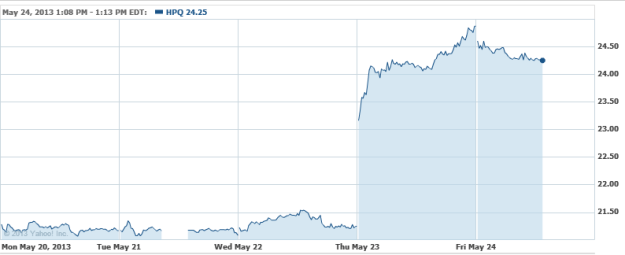 Ford Motor Company (NYSE:F): Current price $14.79
The iconic automaker has announced the addition to its capacity by 200,000 units in 2013 in North America. For the second consecutive year, Ford upped its output to meet the increasing demand for cars, utilities and trucks. In 2012, Ford augmented its capacity by some 400,000 units. Contributing to the capacity expansion will be facilities including the Chicago Assembly Plant, Flat Rock Assembly Plant, and Kansas City Assembly Plant. Vehicles which will be produced, are Ford Explorer, Ford Fusion, and Ford F-Series.

Don't Miss: You Should Listen to Warren Buffett On Economic Moats.