BofA Says Claims of Ex-employees Are "Impossible"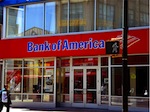 Ex-employees of Bank of America (NYSE:BAC) have claimed that the company awarded bonuses for causing homeowners to foreclose. Bank of America has said these ex-workers have made "impossible" claims.
According to documents that BofA has filed in federal court, these employees who made sworn statements had limited roles, meaning they were unable to understand all of BofA's efforts to assist distressed homeowners.
Bank of America said that the workers "could not have witnessed what they claim to have witnessed because they were not in a position to do so and would not have witnessed such things in any event because Bank of America's actual practices were diametrically opposite." These claims are in relation to a case where homeowners are suing BofA, claiming that the company failed to comply with the government's Home Affordable Modification Program (HAMP).
According to one of the ex-employees, the loan collectors were getting $500 bonuses and gift cards to retailers such as Bed, Bath and Beyond (NASDAQ:BBBY) and Target (NYSE:TGT) for foreclosing on individuals.
The supervisors have said in sworn statements that they never provided this kind of incentive to their employees. According to Bank of America, six of the seven employees were fired because of inappropriate behavior.
The bank also addressed claims that the bank channeled those who qualified for HAMP into foreclosures or private modifications that were more profitable to the bank. Bank of America will be addressing all of these claims in the ongoing lawsuit.
Don't Miss: JPMorgan Kicks the Door Down on Earnings Expectations.