BofA Says Corporate Bonds Better Than Stocks During Shutdown and 2 Other Hot Stocks to Watch
Bank of America Corp. (NYSE:BAC): Current price $14.05
Bank of America strategists are among many from the big financial institutions who are predicting that dollar-denominated corporate bonds will beat the performance of stocks in October if political gridlock remains with the government partially shut down. Company debt in the United States has risen 1.1 percent since September 17, which was the day before the Federal Reserve jolted investors with its decision to maintain its economic stimulus, versus a 0.5-percent slip on the Standard & Poor's 500 Index.
In August 2011, the most recent time when legislators approached a deadline to raise the debt limit, investment grade bonds returned 0.13 percent while domestic stocks declined by 5.4 percent. Michael Contopoulos at Bank of America says that even with corporate bonds trading at yields within one percentage point of all-time lows, they are on track to perform better than stocks this month, since any weakening of the economy from the shutdown will probably prolong the Fed's of monthly purchases of $85 billion in mortgage bonds and Treasuries.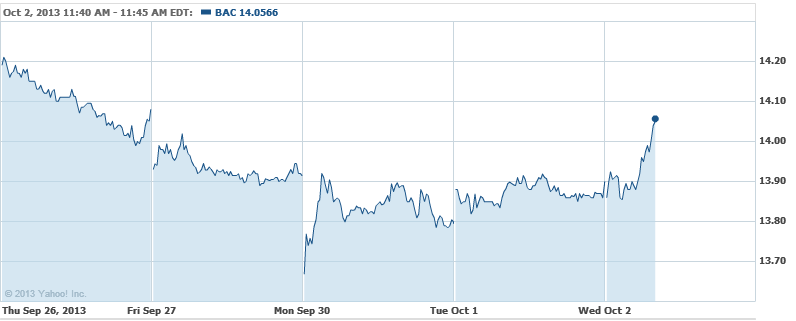 Micron Technology Inc. (NASDAQ:MU): Current price $17.80
Micron Technology shares are up Wednesday by about 1.5 percent in heavy volume after leading chip rally early on. On Tuesday, a Sterne Agee report pointed out indications of strong demand for mobile DRAM processors, which downplayed fears of a slowdown.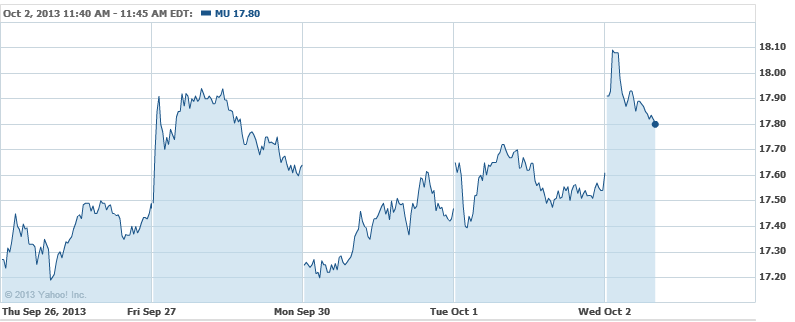 Nokia Corp. (NYSE:NOK): Current price $6.63
It anticipated that Nokia will introduce its first tablet on October 22 at an event in Abu Dhabi. Of late, the Federal Communications Commission confirmed the tablet, which will run on Windows operating system developed by Microsoft Corp. The device will supply 4G LTE network support for bands 2, 4, 5, 13, and 17, along with HSPA+ and GSM/EDGE networks. Further, this tablet will be operational for three top domestic wireless operators, AT&T Inc., Verizon Communications Inc., and T-Mobile US Inc. Nokia has elected to debut 6 new handsets on the above date.

Don't Miss: What Do Bankers Have to Tell Obama About the Debt Ceiling?