BofA Set to Report Wednesday AM and 2 More Heavily Traded Stocks for Tuesday
Bank of America Corporation (NYSE:BAC): Closing price $12.28
The bank is set to post its first quarter earnings before the open on Wednesday, along with a conference call at 8:30 Eastern Time. Analysts will be looking for earnings of 22 cents on revenue of $23.58, says First Call. Consensus is between 18 and 27 cents on revenue between $21.59 billion, and $24.89 billion.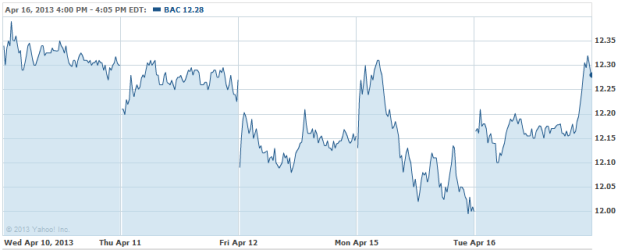 Sprint Nextel Corporation (NYSE:S): Current price $7.19
Pacific Crest believes that DISH's purchase of Sprint could be diluted by between 18 and 83 percent in the short term, if the deal does go through. Beyond that, the firm thinks that the offer indicates a "growing desperation" by the proposed buyer, thus Pacific Crest does not recommend purchasing the shares.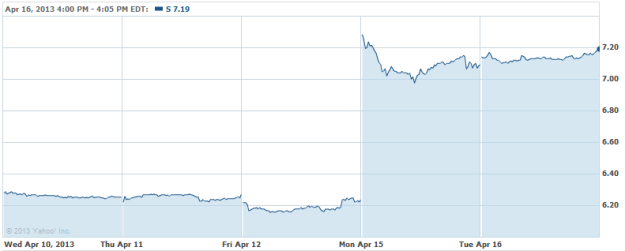 Intel Corporation (NASDAQ:INTC): Closing price $21.90
The corporation has posted first-quarter revenue of $2.6 billion, which is down sequentially, and up compared to the same period in 2012. Other Intel Architecture Group showed revenue of $1.08 billion, down sequentially by 3.9 percent and down 9 percent from 2012.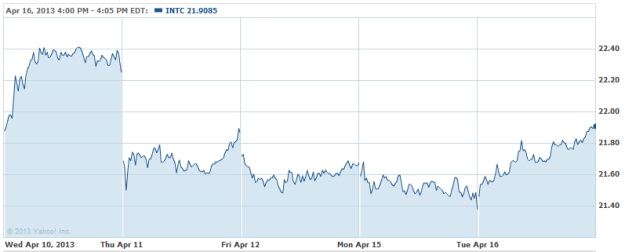 Don't Miss: Does Bernie Madoff Still Haunt JPMorgan?