BofA Settles with NCUA and 2 Dow Movers for Wednesday
Bank of America Corporation (NYSE:BAC): Current price $11.80
The National Credit Union Administration has reached a resolution with Bank of America and certain of its subsidiaries for $165 million for losses connected with purchases of residential mortgage-backed securities by failed corporate credit unions. This settlement with Bank of America is subsequent to three similar agreements with Citigroup (NYSE:C), Deutsche Bank (NYSE:DB) and HSBC Holdings (NYSE:HBC) which total $170.7 million, according to the Administration, which added that BofA did not admit fault as part of the settlement.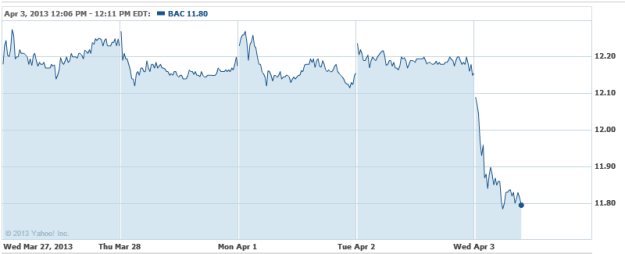 Cisco Systems (NASDAQ:CSCO): Current price $21.33
Cisco will purchase the privately held Ubiquisys, which is headquartered in Swindon, United Kingdom. The acquisition further boosts the buyer's commitment to service providers and reinforces its mobility expertise to provide more intelligent mobile Internet networks. At the close of the acquisition, Ubiquisys employees will be integrated into the Cisco Service Provider Mobility Group, and will report to Vice President and General Manager Partho Mishra, Service Provider Small Cell Technology Group. Through the terms, Cisco will pay roughly $310 million in cash and retention-based incentives to buy out the entire business and operations of Ubiquisys. The transaction should close in the fourth quarter.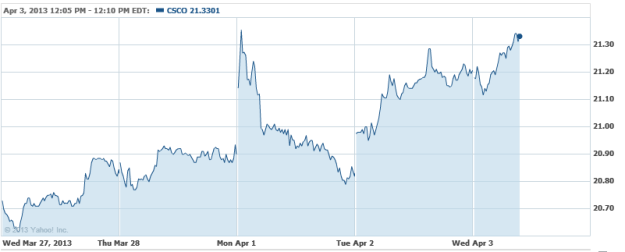 Chevron Corporation (NYSE:CVX): Current price $118.16
The United States energy industry is discussing the possible exportation crude oil, says The Wall Street Journal. Following the Arab oil embargo in the 1970s, Congress mostly disallowed exports to protect domestic oil supplies, but now output is soaring and energy executives wonder whether the United States needs all the petroleum it extracts.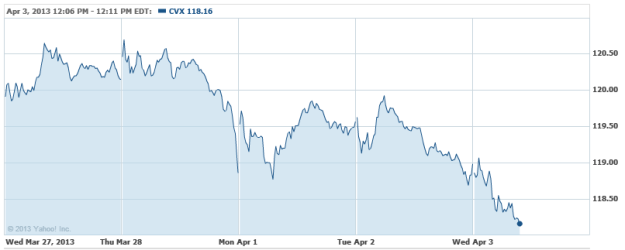 Don't Miss: Is the U.S. Economy Still Driven By Its Service Sector?