BofA Survey Finds Investors Returning to Europe and 2 Other Hot Stocks to Watch
Bank of America Corporation (NYSE:BAC): Current price $13.27
A BofA Merrill Lynch Fund Manager Survey for June finds that, as they pull their money out of emerging market and Japanese equities, investors are coming back to Europe. During the past month, investor confidence has moved up in the face of market instability and a 2.5-percent fall in global equities over the survey period. Currently, a net 56 percent of global investors predict that the world economy will strengthen during the coming year, a figure that is up from a net 48 percent in May. Survey results also indicated that while allocations to the eurozone and United States rose, investment in global emerging market equities sank to their lowest since December of 2008.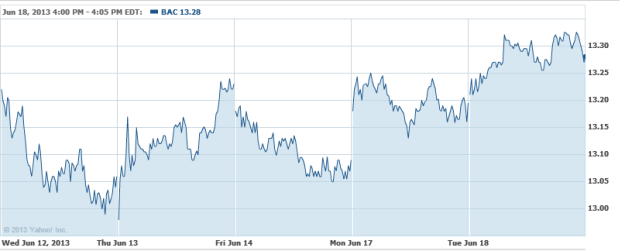 Sprint Nextel Corporation (NYSE:S): Current price $7.32
The United States' number-three cellphone carrier Sprint is now suing to disallow DISH Network's buyout of the wireless data network operator Clearwire Corporation, as the former said that the proposed deal violates the rights of Sprint shareholders and also those of Clearwire. DISH has offered to pay $4.40 per share for Clearwire, which recommended that its shareholders okay the offer, reversing its earlier position in support of a takeover bid by Sprint, which is its majority shareholder. The latter has bid $3.40 per share for the minority interest in Clearwire it doesn't already own. Meanwhile, the satellite broadcaster DISH Network Corp. has said that its offer is contingent on being able to acquire 25 percent of the company.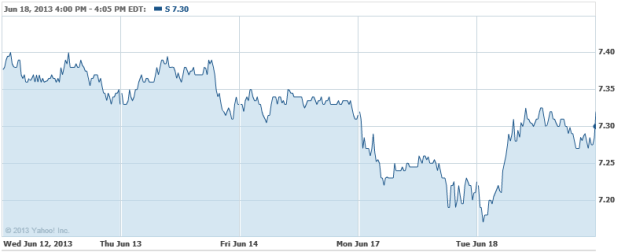 News Corp. (NASDAQ:NWSA): Current price $31.56
A News Corp. journalist at its Sun tabloid and a prison guard will be charged with conspiring to commit misconduct in a public office, as part of an inquiry into wrongdoing at the firm. The United Kingdom Crown Prosecution Service revealed in an emailed statement that the Sun's chief foreign correspondent Nick Parker paid Lee Brockhouse $2,735 for information on well-known persons in 2007 and 2009, and that pair were ordered to appear at a London court on July 11. During the past three years, News Corp. newspapers have been the center of wide-ranging investigations which have uncovered alleged phone hacking and bribery. Chairman Rupert Murdoch closed the News of the World tabloid following revelations that journalists had illegally gotten hold of messages from the mobile phone of a murdered school girl.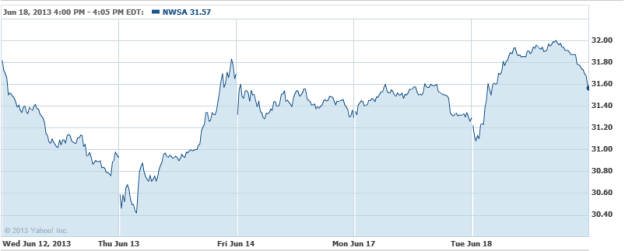 Don't Miss: Does the Bond Market Resemble a Ponzi Scheme?