BofA Top Financier of Coal Industry and 2 Other Hot Stocks to Watch
Bank of America Corporation (NYSE:BAC): Current price $12.42
A report out Monday from Rainforest Action Network, BankTrack and the Sierra Club, reports that Bank of America, Citigroup and JPMorgan Chase & Co. were the largest three financiers of the coal industry in 2012. The three banks assisted in the  underwriting of bonds or loans in the aggregate amount of $8 billion for mountaintop removal coal-mining operations and power plants, comprising 38 percent of the total $20.8 billion investment for that sort of activities last year, according to the fourth annual Coal Finance Report Card from the groups. However, the total investment in the domestic coal industry fell by 50 percent from 2011, as banks tried to shrink their exposure to the fuel which is the top source of greenhouse gases, according to the analyst Ben Collins,Rainforest Action Network and a lead author of the study.

J.C. Penney & Co. (NYSE:JCP): Current price $17.21
On Monday, the iconic retailer revealed a $1.75 billion financing package from Goldman Sachs that further allow it to reinforces its finances and go forward with an assertive turnaround plan. J.C. Penney said it will use the five-year senior secured term loan facility, which is backed by the firm's massive portfolio of real estate and other assets, to fund "ongoing working capital requirements and other general corporate purposes."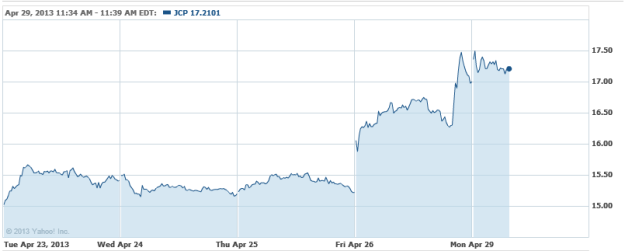 Petroleo Brasileiro – Petrobras (NYSE:PBR): Current price $19.23
Tuesday is the ex-dividend date for Petrobras, and owners of shares as of market close Monday will be eligible for a dividend of 21 cents per share. At the price of $19.02 as of 9:31 a.m. Eastern Time, the dividend yield is 0.7 percent. The average volume for the state-controlled Brazilian company has been 18.2 million shares per day during the past 30 days, it has a market cap of $117.14 billion and forms a part of the basic materials sector and energy industry.

Don't Miss: How Optimistic Are Americans About Their Finances?