BofA's Financial Crisis Hangover Lives to See Another Day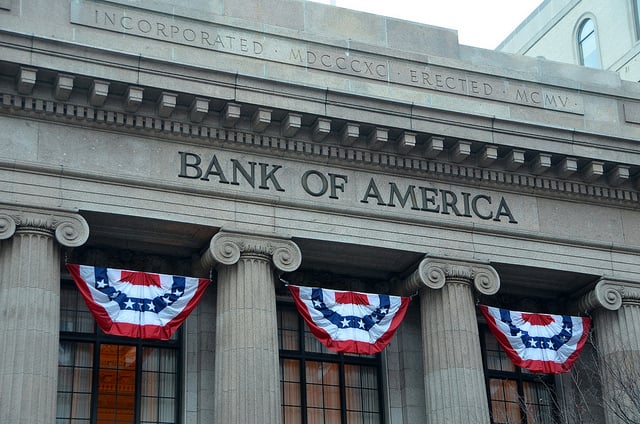 Bank of America (NYSE:BAC) "has been advised by the staff of the [Department of Justice] that it intends to file civil charges against Bank of America entities arising from one or two jumbo prime securitizations," the financial institution stated in its Quarterly Report, filed with the SEC on August 1.
"The staff of the [U.S. Securities and Exchange Commission] has advised that they intend to recommend civil charges concerning one of those securitizations." New York's attorney general may also bring claims against Merrill Lynch's sales of collateralized debt obligations, the bank added. The civil charges relate to mortgages that were too large to be guaranteed by Fannie Mae or Freddie Mac, so they were packaged into "jumbo" mortgage bonds.
As this excerpt from the company's securities filing for the April to June quarter shows, Bank of America is getting ready to handle another bout of lawsuits related to its home loans and underwriting.
Clearing the second-biggest U.S. bank's legal docket has been a key pillar of Chief Executive Officer Brian Moynihan efforts to clean up Bank of America's balance sheet, and recover from the fallout that the 2008 credit crisis and purchases of Countrywide Financial and Merrill Lynch created. Already, the company has spent more than $45 billion on litigation, settlements, and refunds to investors linked to the soured mortgages and poor servicing.
The lingering effects of the bank's problems with mortgages and mortgage-backed securities are like a sticky piece of gum for Bank of America. "It's like they've stepped in something that they can't get off their foot; they're having a hard time shaking off the activities that helped cause the financial crisis," Mark Williams, a former Federal Reserve bank examiner who now teaches risk management at Boston University, told Bloomberg.
In this case, Bank of America stated it received "numerous requests, subpoenas and orders for documents, testimony and information" regarding the mortgage-backed securities and collateralized debt obligations, or CDOs, the bank's subsidiaries made during the housing boom. The jumbo prime securitizations in question were based on mortgages that were larger than those allowed in government-supported programs, which max out at $729,750 for single-family properties in high-cost areas.
Bank of America stated in the securities filing that it is in discussions with regulators "to explain why the threatened civil charges are not appropriate."
Project BAC — the roadmap to greater efficiency named after Bank of America's stock market ticker — has outlined a means for the institution to cut expenses amid its tepid revenue growth, and reducing litigation costs is an important part of that effort. The company's most recently reported financial results showed a $1 billion drop in non-interest spending in the second quarter, which was driven by a 50 percent decrease in litigation costs, and helped the bank's profit rise 63 percent.
Comparatively, litigation cost the bank $4.2 billion in 2012, and $5.6 billion in 2011. "We've made progress resolving many issues and will continue to work to address any outstanding matters," said Larry DiRita, a Bank of America spokesman, in response to questioning from Bloomberg.
As for regulators, the five-year statute of limitations for many of these types of cases are fast approaching. New York Attorney General Eric Schneiderman, the co-leader of a a task force created to investigate misconduct in the bundling of mortgage loans into securities, accused Credit Suisse (NYSE:CS) last November of misleading buyers of the investments, and UBS (NYSE:UBS) is preparing to settle similar claims. The string of cases involving CDOs began with the SEC's prosecution of Goldman Sachs (NYSE:GS) in 2010.
Shares of Bank of America closed at $14.84 on Friday, up over 27% this year.
Don't Miss: Citigroup Is Slammed With $590 Million Ghost from the Financial Crisis.