BorgWarner Earnings: Investors are Not Pleased
BorgWarner Inc. (NASDAQ:BWA) reported higher profit for the first quarter as revenue showed growth. BorgWarner Inc. is a global supplier of engineered automotive systems and components, mainly for powertrain applications.
Don't Miss: Wall St. Cheat Sheet's newest Feature Trades of the Month!
BorgWarner Earnings Cheat Sheet for the First Quarter
Results: Net income for BorgWarner Inc. rose to $129.4 million ($1/share) vs. $76.2 million (63 cents/share) in the same quarter a year earlier. A rise of 69.8% from the year earlier quarter.
Revenue: Rose 34.5% to $1.73 billion YoY.
Actual vs. Wall St. Expectations: BWA beat the mean analyst estimate of 96 cents/share. Estimates ranged from 82 cents per share to $1.09 per share.
Quoting Management: We began 2011 with a strong first quarter," said Timothy Manganello, Chairman and CEO of BorgWarner. "Growing demand for our advanced powertrain technology enabled us to grow significantly faster than the market. Excluding the impact of currency and sales related to the Haldex and ENSA acquisitions, our sales were up approximately 26% in the first quarter, compared with a global market that grew only 5%. We successfully managed costs while growing our sales during the quarter resulting in a solid operating income margin of 10.4%. Earnings of $1.00 per diluted share in first quarter 2011 were a significant improvement from the same period a year ago."
Key Stats:
The company has enjoyed double-digit year-over-year revenue growth for the past five quarters. Over that span, the company has averaged growth of 42.4%, with the biggest boost coming in the first quarter of the last fiscal year when revenue rose 57% from the year earlier quarter.
Last quarter marked the fifth consecutive quarter of gross margins expanding as the company's gross margin expanded 1.3 percentage points to 19.8% from the year earlier quarter. Over that span, margins have grown on average 5.1 percentage points per quarter on a year-over-year basis.
Competitors to Watch: Dana Holding Corporation (NYSE:DAN), Meritor Inc (MTOR), Cummins Inc. (NYSE:CMI), Quantum Fuel Systems Tech. (QTWWD), Enova Systems, Inc. (AMEX:ENA), Standard Motor Products, Inc. (NYSE:SMP), Federal-Mogul Corporation (NASDAQ:FDML), Westport Innovations Inc. (NASDAQ:WPRT), Lear Corporation (NYSE:LEA), and Tenneco Inc. (NYSE:TEN).
Today's Performance: Shares of BWA are trading at $76.67 as of April 28, 2011 at 3:31 PM ET, down 2.4% from the previous closing price of $78.56.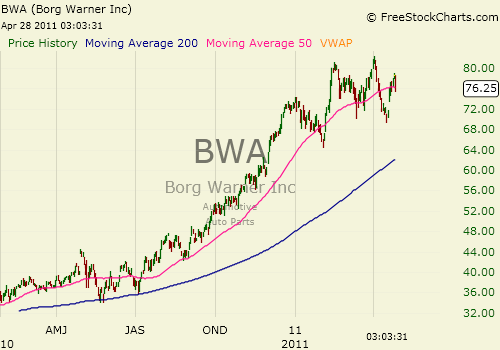 Don't Miss Wall St. Cheat Sheet's newest Feature Trades of the Month!