Boston Scientific Posts Q1 Loss and 2 Other Hot Stocks to Watch
Boston Scientific Corporation (NYSE:BSX): Current price $7.44
The medical device maker reported a first-quarter loss on Thursday, while it took $578 million in charges for litigation and restructuring, among which included the reduction of its workforce. Subtracting the one-time charges, it saw a profit of 16 cents per share, up one cent year-over-year from 2012. The firm has said it will eliminate more jobs in 2013 due to its ongoing restructuring, which it has said will result in total pretax charges of between $300 million to $355 million. For this year, Boston Scientific said that its results could range from a net loss of 6 cents per share to earnings of 1 cent, and excluding special items, it anticipates earnings of 65 cents to 70 cents per share.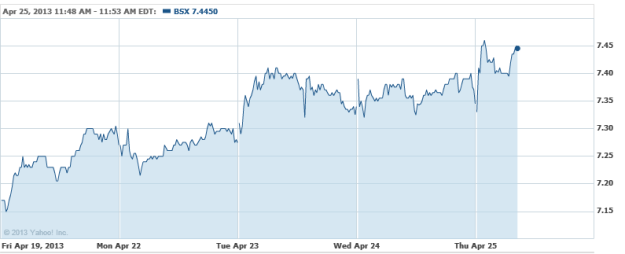 Qualcomm (NASDAQ:QCOM): Current price $62.11
Zacks Equity Research is reporting that Qualcomm posted solid financial results for the second quarter of fiscal 2013, that meet the Zacks Consensus Estimate. Management has elevated its outlook for the period mostly because of the gradual adoption of LTE networks in North America, rapid transition from 2- to 3-gigabyte in China and India, and rising licensing revenue.  On the other hand, the revised guidance dropped below the current Zacks Consensus Estimate. In reaction, in the after-market trade on NASDAQ, the share price was down by 5.76 percent to $66. Presently, Qualcomm faces a severe competitive threat from its closest rival Intel Corporation (NASDAQ:INTC), which has been redesigning its chipsets for the mobile computing market.

MPG Office Trust (NYSE:MPG): Current price $2.53
On Thursday, MPG announced that it will be purchased by Brookfield Office Properties, at a price of $3.15 per share. Through the terms, the holders of MPG's common shares will receive $3.15 per share in cash, marking a 21 percent premium to the close of $2.60 on April 24. Brookfield has entered into a guarantee in regards to obligations of its affiliates under the merger agreement, which also provides that a subsidiary of Brookfield will initiate a tender offer to purchase, subject to the offer conditions, all of MPG's outstanding preferred shares for $25 per share in cash, without interest. Brookfield is expected to begin the tender offer in early May.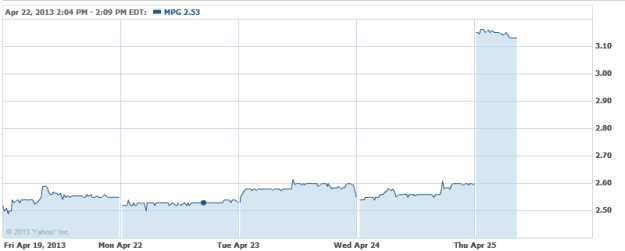 Investing Insights: What Do These Factors Say About DuPont?