Boston Scientific to Slash Jobs and 4 Heavily Traded Shares Turning Heads
Chesapeake Energy Corporation (NYSE:CHK): Current Price $20.31
After the energy exploration company announced that their Chief Executive Officer, Aubrey McClendon, would retire on April 1, Chesapeake Energy Corporation's stock is surging. McClendon's personal financial dealings have been harshly criticized by many investors, specifically, the CEO's personal investments in the wells that his company was drilling caused a great deal of controversy and the Security and Exchange Commission opened a probe into the matter last year. In early trading, Chesapeake jumped $1.47, or 7.75%, to $20.44.

Nokia Corporation (NYSE:NOK): Current price $4.1150
According to IT officials who spoke anonymously, the Income Tax Department believes that besides income-tax violations, Nokia Corporation India may have mocked their transfer pricing norms. The total tax implication for the Finnish mobile handset manufacturer could be over Rs 10,000 crore.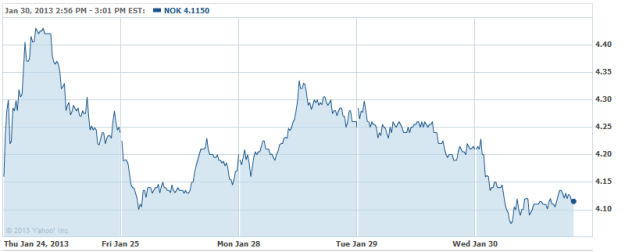 Are these stocks a buy or sell? Let us help you decide. Check out our Stock Picker Newsletter now.
Boston Scientific Corporation (NYSE:BSX): Current price $7.31
Boston Scientific Corporation, the Natick medical device maker that already has eliminated more than 1,000 jobs over the past three years, said that they plan to cut another 900 to 1,000 jobs globally.

EMC Corporation (NYSE:EMC): Current price $24.75
Excluding one-time items, EMC Corporation declared an adjusted profit of 54 cents a share and revenue moved up 8% to $6.03 billion.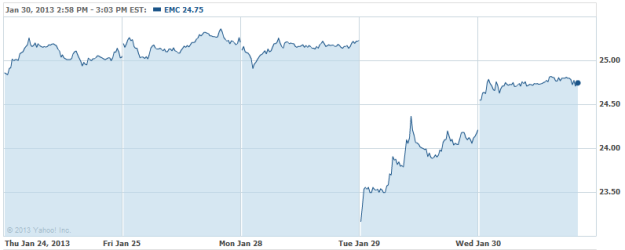 Sirius XM Radio Inc (NASDAQ:SIRI): Current price $3.16
Sirius XM Radio Inc.'s annual Super Bowl coverage this year will include twelve different live game broadcasts in nine languages plus several shows coming from New Orleans as well as other special programming.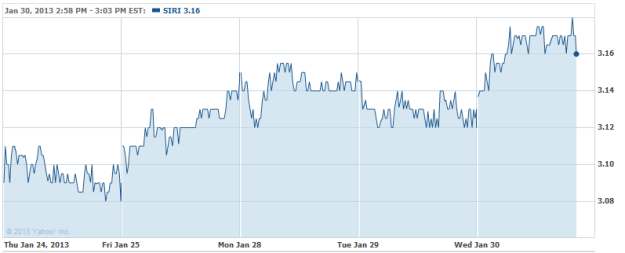 Don't Miss: Mr. Market Versus Mr. Buffett: Who Wins?