BP's Trial Continues, KKR Buys into Qingdao, and 3 More Hot Stocks
BP (NYSE:BP): BP shares are trading lower as the company enters the second phase of its trial regarding the 2010 Deepwater Horizon disaster — the amount of crude that spilled into the Gulf of Mexico is the focus of the hearings, Seeking Alpha reports. BP is facing fines of $2.7 billion to $18 billion, depending on how much oil will be ruled to have leaked, and whether BP is found guilty of gross negligence.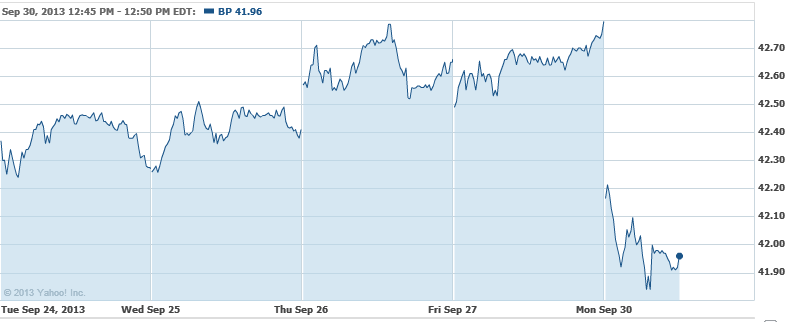 KKR (NYSE:KKR): KKR has agreed to purchase a 10 percent stake in the Chinese appliance maker Qingdao for an officially undisclosed price, though Reuters says that it's likely to be about $550 million. "For what looks like a decent price, KKR gets a piece of a company with exposure to the booming Chinese consumer market, and Qingdao hooks up with a partner to help it expand to markets outside of China," Seeking Alpha says.

Chipotle Mexican Grill (NYSE:CMG): Chipotle shares have been upgraded to Overweight by Morgan Stanley and slapped with a $485 price target, fueling a 2 percent to 2.5 percent rise in trading. Chipotle scored high in a "best in class" survey conducted by Morgan, which could indicate strong traffic gains, Seeking Alpha reports.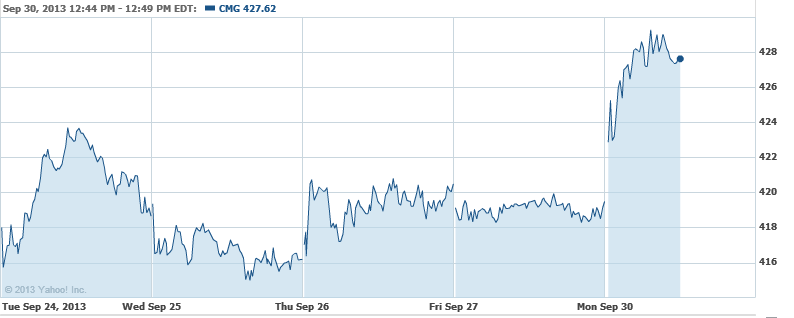 Royal Dutch Shell (NYSE:RDSA): Shell has been hiked to Buy from Sell with a $71 price target at Goldman Sachs despite the stock's underperformance in the past year, as the company let earnings fall due to pressures from heavy depreciation and exploration expenses. However, Goldman believes that Shell's underlying business is sound and is highly cash generative, with higher exposure than peers to long-lived assets and slightly better production and cash flow growth in the coming years.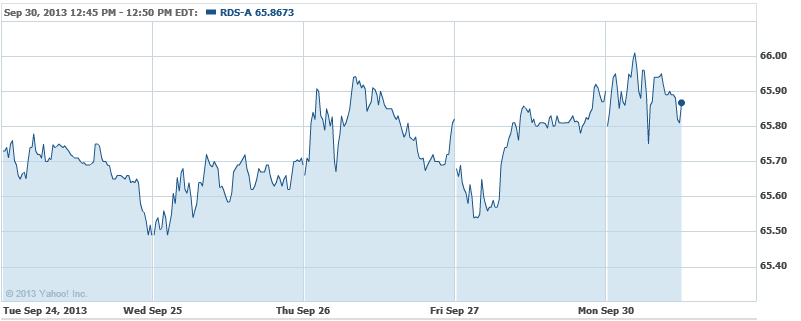 DirecTV (NASDAQ:DTV): DirecTV has signed off on a deal with A24 for the rights to broadcast films on video on demand a month before they hit theaters, with DirecTV investing $40 million in A24 to help launch the program. "DirecTV plans to charge subscribers between $10.99 and $12.99 for the first crack at the A24 films, but will need to spend some funds on marketing and see good critical reviews in order to get the films noticed," Seeking Alpha points out.

Don't Miss: For BP, The Question Is How Much Oil Really Spilled in 2010.