Bribery Scandal Hits Novartis, Adobe Wins On the Cloud: Market Recap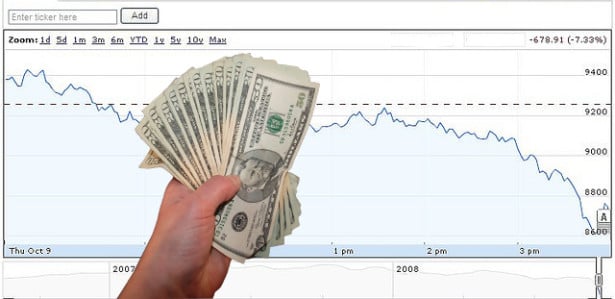 U.S. stocks rose Wednesday after the Federal Reserve made the surprising announcement that it will not begin curbing stimulus. The central bank's two-day policy meeting wrapped up Wednesday afternoon, and the Fed decided it will not start cutting back on its $85 billion-per-month bond purchases for now. Most economists had expected the Federal Reserve to start tapering after its September meeting. The surprise sent the S&P 500 to a record high.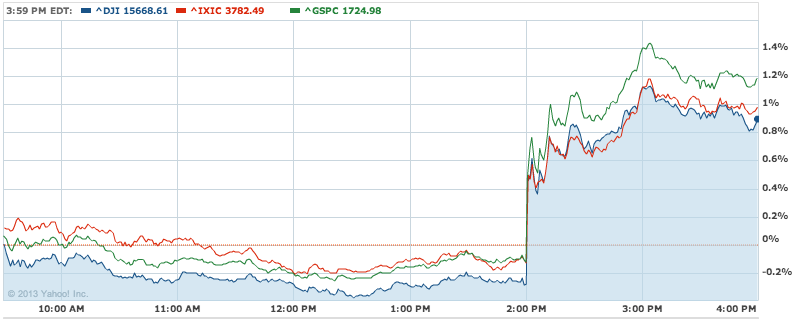 Gold: +4.28% to $1,365.50 per ounce; Oil: +2.68% to $108.24 per barrel; U.S. 10-Year: -5.08 to 2.708%.
FOMC: The Bond Taper Is Officially Not Here: The Federal Open Market Committee, which is the arm of the U.S. Federal Reserve responsible for open market operations, concluded its two-day meeting Wednesday afternoon. Most were expecting the Federal Reserve to dial down its bond-purchasing programs, but that's not what the central bank delivered… (Read more.)
Here's the World Bank Strategy to Target Global Poverty: The World Bank may consider a major strategic revision as it plans to combat poverty through strategic lending across the globe, Reuters reports. The bank is trying to accomplish its goals of vanquishing extreme poverty and aiding the income of the poorest 40 percent of people in each country… (Read more.)
SEC Puts CEO-to-Worker Pay Ratios Front and Center: The disparity between CEO compensation and the average wage of rank-and-file employees has become a hot-button issue. In the wake of the 2008 financial crisis, regulators, investors, and the general public scrutinized executive compensation packages and balked at what they considered outsize rewards. Payment was loosely, if at all, linked to company performance… (Read more.)
Here's your cheat sheet to today's top stocks stories.
Boeing Co.'s (NYSE:BA) 787 Dreamliner's successfully completed flight on Tuesday was an important moment for Boeing — it gave the jet manufacturer a rare celebratory moment in a year that has been darkened by a series of mechanical malfunctions. "The airplane just did exactly as we expected," said Randy Neville, chief Boeing 787 test pilot… (Read more.)
Novartis (NYSE:NOV) is the latest target of Chinese authorities attempting to crack down on the rampant bribery within the country's hospital and pharmaceutical systems. Novartis's eye care unit, Alcon, is being accused of bribing doctors in more than 200 Chinese hospitals to prescribe Novartis's lens implants, according to a report from the BBC… (Read more.)
Adobe Systems Inc. (NASDAQ:ADBE) unveiled a new dynamic tag management capability for Adobe Marketing Cloud, which dramatically accelerates the process for tagging content to be quantified and optimized across Web properties. It joins together existing Adobe tag management capabilities with cutting-edge tech from the recent purchase of satellite technology… (Read more.)
Walgreen Co. (NYSE:WAG) will be moving 120,000 employees to private health insurance coverage. With the shift, Walgreens is joining the ranks of large corporations making the same move. Walgreens will keep its reward-based wellness program and the $600 surcharge on smokers in place.
FedEx Corp. (NYSE:FDX) reported earnings today, beating expectations for both earnings and revenue. FedEx is seen as an economic bellwether because it ships a wide variety of goods around the world. Earnings per share came in at $1.53, a 5.52 percent growth year over year that topped expectations of $1.50. The company posted revenue of $11 billion. FedEx said cutting costs and raising prices for express shipping helped bring in those results.
BlackBerry (NASDAQ:BBRY) unveiled its new Z30 smartphone Wednesday, evidence that the company may be down, but it's not out. That's right: BlackBerry's business is still kicking, even though it is starting to look more and more likely that the smartphone maker will soon be put on the auction box… (Read more.)
Don't Miss: 10 Signs Americans Are Still Stuck in the Great Recession.
Follow Jacqueline on Twitter @Jacqui_WSCS