Brick and Mortar Retail Is Not Even Close to Being Dead
It seems that the rumors of retail's untimely death at the hands of online shopping have been greatly exaggerated.
A new study released by global management consulting firm A.T. Kearney indicates that traditional shopping — as in a physical storefront — still makes up the vast majority of all retail sales. The numbers aren't even close, in fact. The study says that a whopping 90 percent of all retail sales occur in physical store locations, and 95 percent of retail sales overall go through businesses that maintain a brick and mortar presence.
The study itself gathered its data from more than 2,500 shoppers from the United States, and asked them about their shopping preferences and behavior. A.T. Kearney included people of all ages, ranging from teenagers to senior citizens, and found that the majority of them much preferred shopping in physical stores than online.
One of the most important takeaways that researchers found was that physical stores play an enormously important role in shopping for a lot of people, even those who ultimately make purchases online. There is an underlying value to the store itself, which plays an important part in the shopping journey for many consumers.
"The store plays a crucial role in online purchases, as two-thirds of customers purchasing online use a physical store before or after the transaction," the study says. "In these cases, the store makes a significant contribution to converting the sale, even though the transaction is eventually registered online. In other words, the source of value creation (brand building, product awareness) is distinct — or decoupled — from the place of value capture (sales transaction)."
Essentially, the study confirms that investing in an actual physical location does pay off in the long run for retailers who opt to make the investment. In a world that is quickly seeing customers embrace virtual shopping and abandoning malls, the news can come as refreshing to some of the traditional retail giants.
"A strategy based on leveraging the appeal of the physical store supported by digital is the best formula for capturing the maximum number of sales, building sustainable customer loyalty, and creating opportunities to cross-sell," said Michael Brown, a partner at A.T. Kearney and the study's co-author.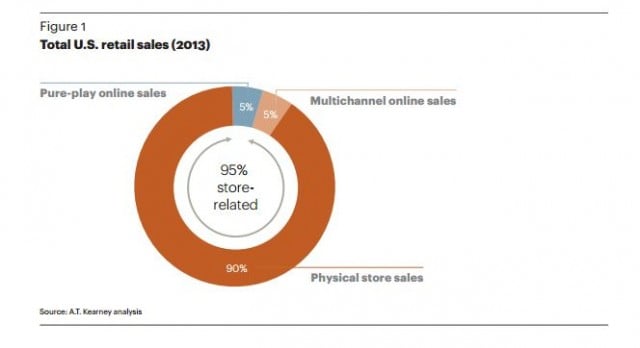 A visualization of the data above really puts things into perspective. Of course, there are exceptions that are clearly doing quite well for themselves with an online-only philosophy, but it does bring on questions about the existing decline of physical retailers.
Many big-name retailers, be it Best Buy, J.C. Penney, or Macy's, have all pointed to the rise of online shopping as having a significant effect on their sales. The additional competition from the online space has most certainly led to the demise of many traditional brick and mortar chains, like Borders, Blockbuster, and Circuit City, at least in some respect. But if the data from the study is any indication, those retailers have a very big and distinct advantage over online-only sellers.
What will be interesting to keep an eye on is whether or not some of the more successful online companies — be it Amazon or someone else — actually starts taking steps to establish a more physical presence. Although it would be extremely weird to see an Amazon market pop up in suburban Seattle, the data backing up the company's logic would prove that it was a wise business decision.
Are we witnessing a turning point in eCommerce? Probably not, but the data collected from this study should do something to reinvigorate brick and mortar retailers. We're already seeing Wal-Mart beef up its online capabilities, so why wouldn't others?
As The Wall Street Journal comments, it appears that having a bunch of physical store locations to complement a successful online presence may be the study's biggest implication. It's unclear whether the data will actually manifest into any real-world changes in the short term, but it does shed some light on what businesses should be focusing on in the future.
More from Business Cheat Sheet: