Bristol-Myers's Cancer Drug Lands This Brand New Partner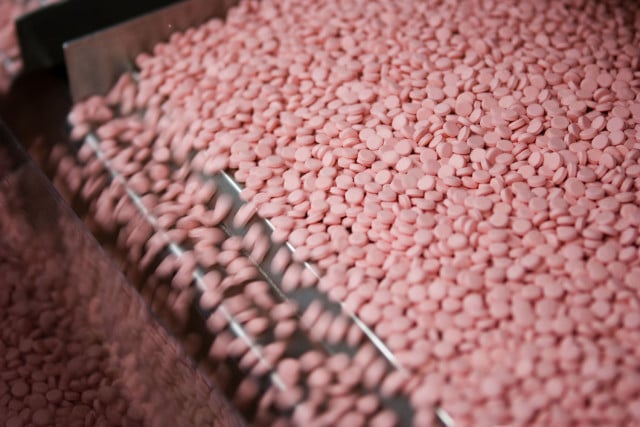 Bristol-Myers Squibb Co. (NYSE:BMY) and Samsung BioLogics on Monday announced a 10-year agreement, through which Samsung BioLogics will manufacture an antibody cancer drug for the New York-based biopharmaceutical giant.
Trial production began in July at Samsung BioLogics's new plant in Songdo Incheon, South Korea, according to a press release, and commercial production will start immediately after regulatory approval. Financial terms of the partnership were not revealed, and no further details about the cancer drug were given.
"Our agreement with Samsung is an important part of our company's overall manufacturing and supply strategy, focused on creating long-term relationships with high quality manufacturing partners around the world," Louis Schmukler, Bristol-Myers Squibb's president of Global Manufacturing and Supply, said in the press release. "This agreement increases our biologic manufacturing capacity to help ensure sufficient long-term supply of our commercial products."
The Seoul, South Korea-based Samsung BioLogics was established in April 2011 and has a history of research and development work, along with providing contract process development, according to the company's website. Samsung Electronics Co. (SSNLF.PK) has a 40 percent stake, and is one of the company's founders.
"We are pleased to announce this strategic manufacturing relationship with Bristol-Myers Squibb, and look forward to delivering best-in-class manufacturing services with the highest global quality standards," Tae-Han Kim, president and CEO of Samsung BioLogics, said in the joint release. "The relationship with Bristol-Myers Squibb represents the validation of our long-term commitment to the biopharmaceutical manufacturing industry."
In 2012, Bristol-Myers Squibb posted net sales of $17.6 billion and spent $3.9 billion on research and development, according to company-released figures. Its top-selling products last year were Abilify, an antipsychotic that netted $2.8 billion; Plavix, a heart medicine, which brought in $2.5 billion; and Sustiva, an antiretroviral drug for the treatment of HIV, with $1.5 billion.