Bristow Group Stock Is Propelling Higher; Will You Be on Board?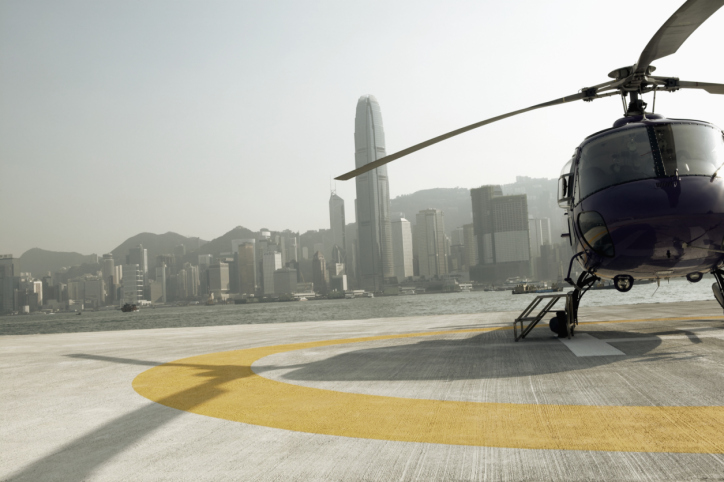 Bristow Group Inc (NYSE:BRS) isn't a household name, but it's a very profitable company that provides helicopter services to the offshore energy industry in Europe, West Africa, North America, Australia, and internationally. Its helicopters are used principally to transport personnel between onshore bases and offshore production platforms, drilling rigs, and other installations, as well as to transport time-sensitive equipment to these offshore locations. The company also offers helicopter flight training services to commercial pilots and flight instructors, as well as military training services through its Bristow Academy. In addition, it provides helicopter repair and production support services as well as search and rescue services to oil and gas companies. The company provides its helicopter services to integrated, national, and independent oil and gas companies. It has a fleet of about 500 aircraft.
The stock is up 100 percent in the last two years but has been flat year-to-date. But can the stock regain its footing? An analysis of the company's recent performance is warranted.
Well the company still makes good money as its income for the March 2014 quarter was $30.3 million, or $0.83 per diluted share, compared to net income of $40.4 million, or $1.11 per diluted share, in the same period a year ago. Adjusted net income, which excludes special items and asset disposition effects, increased 33.7 percent to $49.1 million, or $1.35 per diluted share compared to $36.7 million, or $1.01 per diluted share in the March 2013 quarter.
The company's operating revenue increased 15.4 percent to $404.6 million compared to $350.7 million in the same period a year ago. Now its adjusted was $122.9 million compared to $103.0 million in the same period a year ago, an increase of 19.3 percent. The increase in adjusted earnings, adjusted net income and revenues per share was primarily driven by increased operating revenue across most of Bristow's business units, leading to LACE rate increases.
Specifically contributing to increased earnings was a $41.4 million increase in operating revenue in its Europe business unit primarily driven by Bristow Helicopters' acquisition of Eastern Airways in February 2014 and Gap Search and Rescue contract beginning in June and July 2013. It also benefited from $12.4 million in maintenance credits. It saw increased earnings from unconsolidated affiliates of $4.4 million primarily due to a tax indemnity payment of $2.5 million and lower tax charges than accrued in the December 2013 quarter from a tax amnesty payment its unconsolidated affiliate in Brazil paid to the Brazilian government, and a decrease in its effective tax rate. William E. Chiles, President and Chief Executive Officer, stated:
We had a successful fiscal year in terms of safety and operational performance, while delivering on our annual financial promises to investors in fiscal 2014, which is a testament to the passion and discipline of our team around the globe. Bristow is a unique company in that we continue to invest in our business at record rates while delivering a balanced return to our shareholders demonstrated by doubling the quarterly dividend since 2011 and repurchasing record amounts of shares. We expect our growth to continue as we deliver superior service to our clients with new contracts in new markets like East Africa and existing markets like Australia, Europe, and the U.S. Gulf of Mexico, with continued strong performance from our affiliates in Brazil and Canada.
Looking ahead, the company is growing revenues and earnings and has benefited from a lower tax rate. The company had a strong year in safety and operational performance. The company continues to reinvest in itself which will set the company up nicely for future growth. The company anticipates seeing new contracts in new markets, and this will only feed the top and bottom lines. Further, the stock is cheap, and I expect it to propel higher in coming quarters. Thus have a buy rating on the stock and assign a $92 price target.
Disclosure: Christopher F. Davis holds no position in Bristow Group and has no plans to initiate a position in the next 72 hours. He has a buy rating on the stock and a $92 price target.
More From Wall St. Cheat Sheet: