Broadcom Earnings: Shares Getting Slammed
S&P 500 (NYSE:SPY) component Broadcom Corporation (NASDAQ:BRCM) reported higher profit for the first quarter as revenue showed growth. Broadcom Corporation manufactures semiconductors for wired and wireless communications.
Don't Miss: Wall St. Cheat Sheet's newest Feature Trades of the Month!
Broadcom Earnings Cheat Sheet for the First Quarter
Results: Net income for Broadcom Corporation rose to $228 million (40 cents/share) vs. $210.2 million (40 cents/share) in the same quarter a year earlier. A rise of 8.5% from the year earlier quarter.
Revenue: Rose 24.2% to $1.82 billion YoY.
Actual vs. Wall St. Expectations: BRCM fell short of the mean analyst estimate of 59 cents/share. Estimates ranged from 52 cents per share to 72 cents per share.
Quoting Management: "Broadcom reported solid results for the first quarter, with revenue above the mid-point of guidance and better-than-expected profitability," said Scott A. McGregor, Broadcom's President and Chief Executive Officer. "In addition, momentum continues to build around our innovative solutions. Following a record year in 2010, we had record design wins in the first quarter, which speaks to the continued underlying strength of our integrated solutions for the Home, Hand and Infrastructure markets."
Key Stats:
The company has enjoyed double-digit year-over-year revenue growth for the past five quarters. Over that span, the company has averaged growth of 47.7%, with the biggest boost coming in the first quarter of the last fiscal year when revenue rose 71.3% from the year earlier quarter.
Competitors to Watch: QUALCOMM, Inc. (NASDAQ:QCOM), Texas Instruments Inc. (NYSE:TXN), Intel Corporation (NASDAQ:INTC), Analog Devices, Inc. (NYSE:ADI), NVIDIA Corporation (NASDAQ:NVDA), Marvell Tech. Group Ltd. (NASDAQ:MRVL), PMC-Sierra, Inc. (NASDAQ:PMCS), Infineon Tech. AG (ADR) (IFNNY), TranSwitch Corporation (NASDAQ:TXCC), and Zoran Corporation (NASDAQ:ZRAN).
Today's Performance: Shares of BRCM are down close to 8% in after hours trading.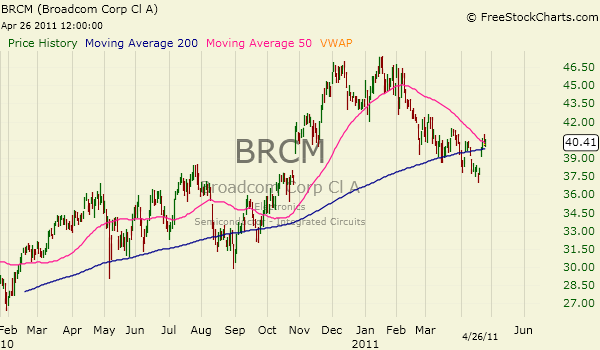 Don't Miss Wall St. Cheat Sheet's newest Feature Trades of the Month!