Broadcom Expects LTE Production in 2014 and 4 Chip and Big Data Stocks on the Move
Intel Corporation (NASDAQ:INTC): Current Price: $21.23
Even though Intel may have only fessed up to building its own TV service this week, the offering has started to be tested by several hundred employees of the company. Intel Media boss Erik Huggers, whose unit is in charge of the service, stated that the friends and family test began recently and this was one of the reasons for talking about the project now.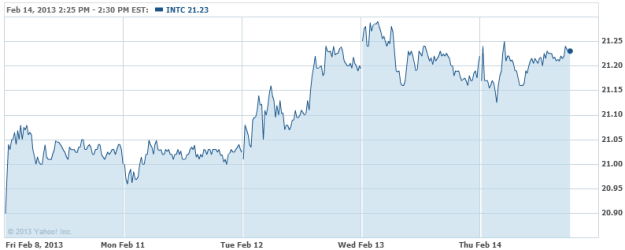 Broadcom Corp. (NASDAQ:BRCM): Current Price: $34.75
On Tuesday, Broadcom stated its expectations for its chips for Long Term Evolution (LTE) high-speed devices to go into production during 2014. The company makes chips that are used in devices from companies including Apple Inc and Samsung Electronics. In December, it said that it would begin to sample its LTE chips during 2013, but it did not say when exactly, a move which disappointed a few investors at the time.

QUALCOMM Incorporated (NASDAQ:QCOM): Current Price: $65.43
Many newer smartphones charge up much more quickly than phones from a year or two ago. This is because 70+ devices have the newer generation Qualcomm chip inside, meaning that Quick Charge 1.0 is helping to charge as much as 40 percent faster than older phones.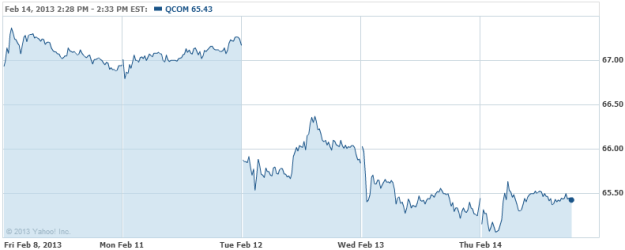 Rackspace Hosting, Inc. (NYSE:RAX): Current Price: $60.67
The firm's stock saw a decline on Wednesday, as it lost almost 20 percent of its value the day after it released a quarterly financial report which slightly missed Wall Street's expectations.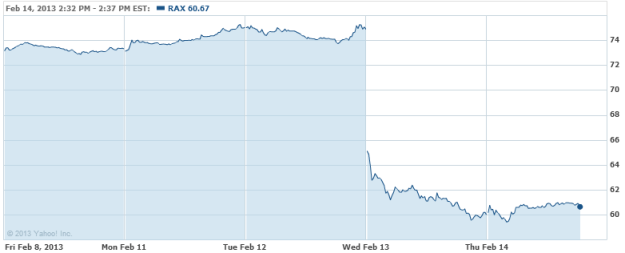 EMC Corporation (NYSE:EMC): Current Price: $24.11
The company has announced significant enhancements to the EMC Velocity Solution Provider reseller program,  making EMC's industry-leading cloud computing and Big Data technologies and solutions available to additional customers, mostly in the rapidly growing mid-market segment.

Don't Miss: Can Nvidia Reverse This Weak Trend?