Broadcom Poised for Higher Valuation and 4 Chip and Big Data Stocks on the Move
Intel Corporation (NASDAQ:INTC):  Current price $21.07
Intel Corporation finds themselves dominating a dying market which is forcing them to assess other alternatives, including an industry that has proven to be a thorn in their side for the semiconductor giant's business, the tablet industry. Morgan Stanley (NYSE:MS) analysts believe that an outside Chief Executive Officer could change the trajectory, but are biased towards the status quo.

Broadcom Corp. (NASDAQ:BRCM): Current price $21.07
Despite an annual contraction in the overall semiconductor industry, Broadcom Corp.'s product revenue increased by 9% and the company claims to have gained additional market share in all of their business segments in 2012. While macro headwinds and seasonal variation might contribute to slower growth in the current quarter, Broadcom might witness stronger growth in the future. With strong cash flow, a robust product road map for 2013 and beyond and accelerating design wins, analysts believe that Broadcom has strong fundamentals to support a higher valuation.

Are these stocks a buy or sell? Let us help you decide. Check out our Stock Picker Newsletter now.
QUALCOMM Incorporated (NASDAQ:QCOM): Current price $66.22
QUALCOMM Incorporated, the largest seller of semiconductors for mobile phones, gave a second-quarter sales and profit forecast that exceeded analysts' estimates and were helped by strong sales of smartphones that run on their technology. Profit in the current period will be $0.98 to $1.06 a share on revenue of $5.8 billion to $6.3 billion.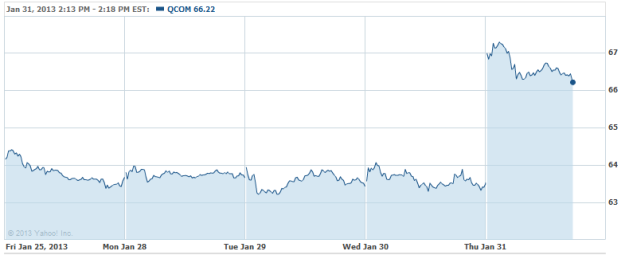 ARM Holdings PLC (NASDAQ:ARMH): Current price $41.10
RBC Capital reaffirmed their outperform rating on shares of ARM Holdings in a research note released on Thursday morning. They currently have a $15.01 price target on the stock.

EMC Corporation (NYSE:EMC): Current price $24.69
EMC Corporation announced support for 4 terabyte drives for EMC Isilon's industry-leading scale-out NAS solutions. With this enhancement to their X-Series and NL-Series products, EMC Isilon further extended the inherent benefits of their scale-out NAS archiving solutions, ease-of-use, highly scalable capacity and performance, auto-management, and self-healing by delivering the capacity of up to 20 petabytes in a single volume, providing 33% more capacity and utilizing 30% less power per rack.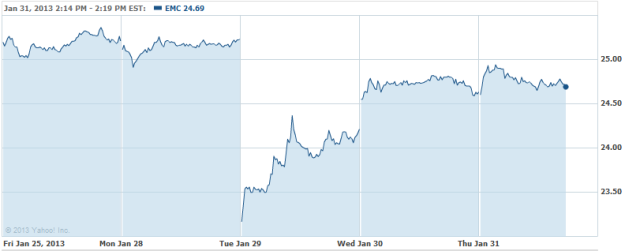 Don't Miss: Microsoft's Tablets: Bad News, Again.