Broadcom Sees Y-O-Y Earnings Decrease and 4 Chip and Big Data Stocks on the Move
Broadcom Corp. (NASDAQ:BRCM): Current Price: $33.96
The company reported GAAP net income totaling $251 million or 43 cents per share compared to a net income of $254 million or 45 cents during the same quarter the previous year. This year-over-year earnings decrease resulted from higher expenses. For 2012, GAAP net income was $1.25 per share compared to $1.65 the previous year.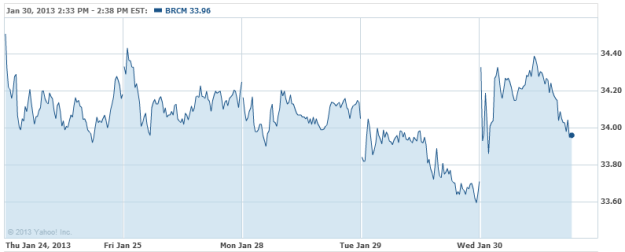 QUALCOMM Incorporated (NASDAQ:QCOM): Current Price: $63.70
The company will likely report earnings of $1.13 a share on revenue of $5.9 billion for Q1. However, the company dominates the smartphone and tablet field. Analysts have begun to question if there's any competition for Qualcomm.

Are these stocks a buy or sell? Let us help you decide. Check out our Stock Picker Newsletter now.
Rambus Inc. (NASDAQ:RMBS): Current Price: $5.39
Rambus revealed a new memory architecture named R+ LPDDR3, which has been designed specifically for mobile devices. The technology is compatible with the standards of the DFI 3.1 and JEDEC LPDDR3, and it is to offer as much as 25 percent lower power consumption and higher performance than the previous LPDDR3.

ARM Holdings plc (NASDAQ:ARMH): Current Price: $41.74
ARM Holdings, Britain's biggest tech group, is scheduled to announce its annual results on Tuesday, February 5.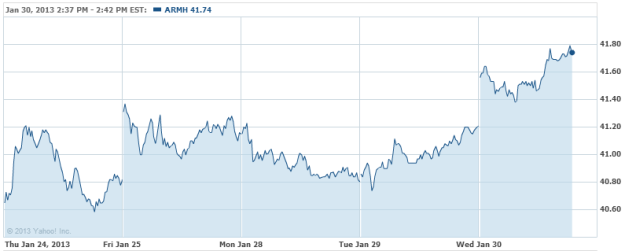 Rackspace Hosting, Inc. (NYSE:RAX): Current Price: $74.30
New research from Rackspace Hosting indicates that that people in the UK may be trusting the cloud as never before, as there is up to GBP 24 billion worth of digital assets stored remotely. Furthermore, the survey shows that people have begun to keep treasured memories in the cloud with 68 percent storing an average of 920 photos online. Also, on average, they are storing an average of 226 music tracks and 45 video files in the cloud.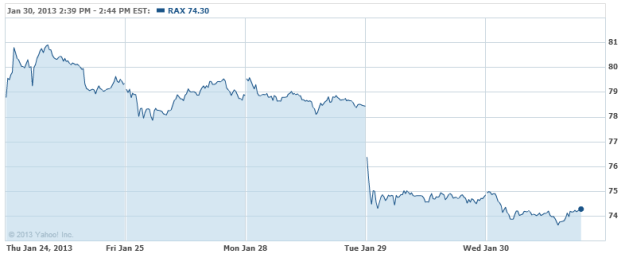 Don't Miss: Does Broadcom Have Anywhere to Grow?