Brookdale Senior Living Inc. Earnings: Loss Narrows
Brookdale Senior Living Inc. (NASDAQ:BKD) reported its results for the first quarter. Brookdale Senior Living, Inc. is an operator of senior living communities in the United States. It operates in four business segments: retirement centers, assisted living communities, continuing care retirement communities and management services.
Don't Miss: Wall St. Cheat Sheet's newest Feature Trades of the Month!
Brookdale Senior Living Earnings Cheat Sheet for the First Quarter
Results: Loss narrowed to $12.3 million (loss of 10 cents/diluted share) from $14.3 million (loss of 12 cents/share) in the same quarter a year earlier.
Revenue: Rose 4.6% to $569.4 million YoY.
Actual vs. Wall St. Expectations: The mean estimate for BKD was a loss of 3 cents/share. Estimates ranged from a loss of 9 cents per share to a profit of 2 cents per share.
Quoting Management: Bill Sheriff, Brookdale's CEO, said, "Our first quarter results were in line with our expectations. Despite bad weather, higher than normal resident attrition, a poor housing market, and federal budget uncertainty, we increased CFFO by 13.5% versus last year's first quarter. Our same community senior housing revenue per unit growth increased to 3.5% and outpatient therapy and home health revenue grew by 16%. We continue to be comfortable with our projection metrics for the year with growth in revenue of 5% to 5.5% and expenses of 4% to 4.5%, such that CFFO per share will be in the $2.30 to $2.40 range."
Competitors to Watch: Assisted Living Concepts, Inc. (NYSE:ALC), Sunrise Senior Living, Inc. (NYSE:SRZ), Marseille-Kliniken AG (MKA), Viculus Limited (VCL), Capital Senior Living Corp. (NYSE:CSU), Emeritus Corporation (NYSE:ESC), Five Star Quality Care, Inc. (AMEX:FVE), and Granville Pacific Capital Corp. (NYSE:GE)
Stock Performance: Shares of BKD are up 2% from the previous close of $25.91.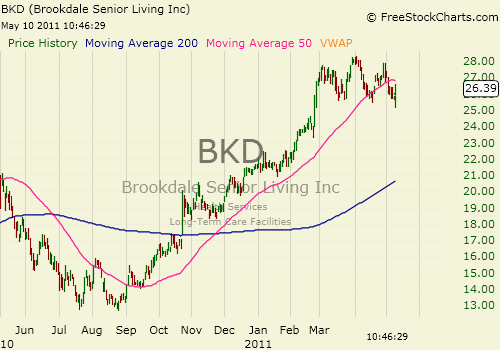 Don't Miss Wall St. Cheat Sheet's newest Feature Trades of the Month!