BUD Upgraded to a $112 Target and 3 Other Hot Stocks
Analysts at Stifel Nicolaus have reaffirmed their Buy rating and boosted their price target on Anheuser Busch InBev (NYSE:BUD) from $94 to $112 after their interview with the company's CFO, and basing their opinion on the expected EBITDA growth in the high single digits as well as proforma Modelo estimates. In case, however, the Modelo deal fails, analysts view a price in the high $80s range as an appropriate point of attractive risk vs. reward.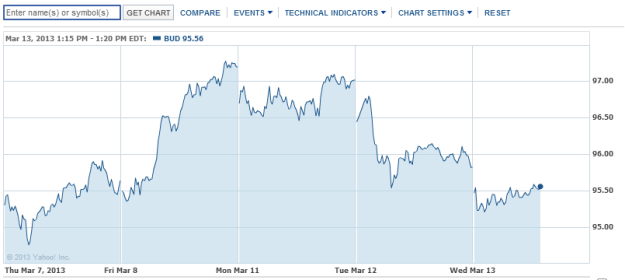 With the buzz back in real estate, more funds dedicated to investing in real estate are on the anvil. KKR & Co (NYSE:KKR) is following in the footsteps of early birds such as Blackstone Group (NYSE:BX) and Carlyle Group LP (NYSE:CG) by setting up its first fund in the sector with an initial $500 million already committed to the pool. The amount is intended to give comfort to prospective investors, particularly as first-time funds find it challenging to raise targeted amounts. "We've been really leaning in with our own capital," said Scott Nuttall, KKR's head of global capital and asset management.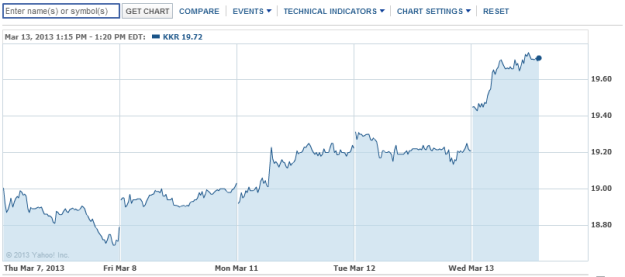 Goldman Sachs analyst Matthew Fassler downgraded his rating on Radioshack (NYSE:RSH) from Neutral to Sell and lowered his price target on the stock from $2.90 to $2.75 per share. Among the reasons for the downgrade: the absence of a strategic merger partner or any buyout potential; the inability of its balance sheet to permit an LBO at current earnings and the prospect of negative cash flows continuing into 2014. Fassler had a better view of retailer Best Buy (NYSE:BBY), where he recommenced coverage with a Buy rating and a 12-month price objective of $25. Reasons for the Buy: control and reduction of losses under new boss Joly, a year-round price match guarantee and a thrust on online business.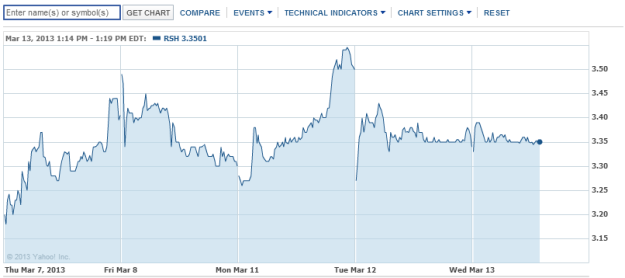 E*TRADE Financial Corporation's (NASDAQ:ETFC) report on monthly activity for February reveals that Daily Average Revenue Trades, at 152,154, were down 10 percent compared to the year ago period and down 1 percent sequentially. The company ended the month with about 2.9 million brokerage accounts, up 9941 from January. Net new brokerage assets added $0.9 billion during the month. The company's loan portfolio saw declining delinquencies all around.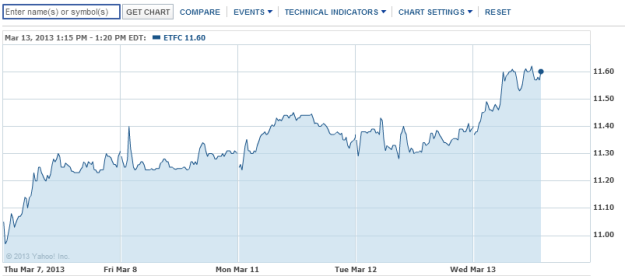 Don't Miss: Unlocking Phones Could Offer Small Carriers A Chance.