Buffett Boosts Exxon, GE to Spin Off Lending Business: Market Recap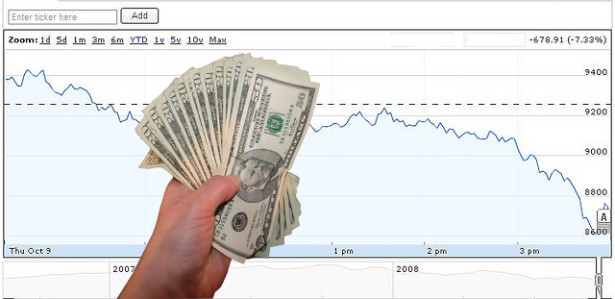 U.S. stocks rose during trading on Friday to end the week with the benchmark gauges extending their records. Both the Dow and the S&P 500 reached records on Thursday after Janet Yellen, who's set to succeed Ben Bernanke as the Chair of the Federal Reserve, said during her hearing in front of the Senate Banking Committee that she doesn't believe the U.S. economy is operating to its highest potential and isn't ready for the Fed to withdraw stimulus.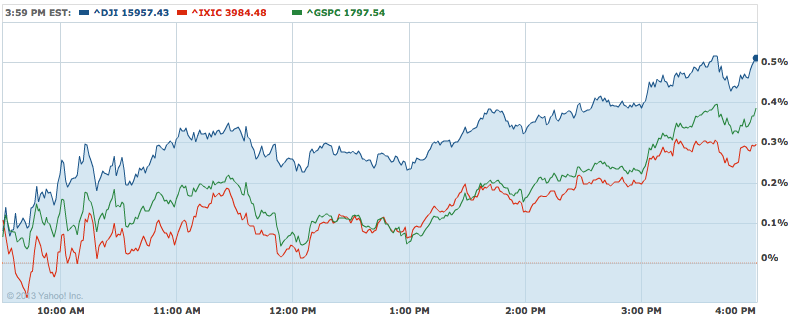 Gold: +0.08% to $1,287.30 per ounce Oil: -0.21% to $94.80 per barrel U.S. 10-Year: +0.26 to 2.709%
Manufacturing Stays Steady Through October Despite Headwinds: Manufacturing conditions in the United States continued to improve in October despite the partial government shutdown, according to reports published by Markit Economics and the Institute for Supply Management at the beginning of November. Although the two disagree about the speed of the recovery, both reports show that manufacturing business activity increased at least modestly.
September's Wholesale Trade Numbers Don't Bode Well for Q4: Data released by the Department of Commerce on Thursday showed that wholesale inventories rose 0.4 percent in September. The month's increase in inventories, which fell in line with analyst expectations, supported evidenced contained in last week's gross domestic product report.
Inflation Is Nowhere to be Found in October Trade Data: Global price pressures remained weak in October, according to import and export price data released Friday by the U.S. Bureau of Labor Statistics. Generally speaking, inflationary pressures across the board have been weak — if present at all — and trade data suggest that the trend continued into the beginning of the fourth quarter.
Dow Heads to 16,000 as Yellen Sails Through Senate: Propelled by Janet Yellen's testimony in front of the Senate Banking Committee Thursday, stocks continued to ascend. The Dow is approaching the record high 16,000 mark, and the S&P 500 is close to hitting 1,800, a record of its own. Yellen's testimony is helping the stock market because of her reaction to the Federal Reserve's bond-buying program.
Here's your cheat sheet to today's top stocks stories:
Exxon Mobil (NYSE:XOM) has gotten a big new supporter. Berkshire Hathaway (NYSE:BRKA)(NYSE:BRKB) disclosed in its most recent 13-F filing that it picked up 40.1 million shares of oil and gas giant Exxon Mobil, worth about $3.7 billion at Thursday's closing price. Shares closed up over 2 percent on the news Friday as the markets interpreted Warren Buffett's investment as a seal of approval for the company. Exxon shares have climbed just 5 percent this year to date, pressured by economic and industry headwinds that have eroded earnings.
General Electric (NYSE:GE) is shrinking its retail finance operations with the goal of eventually leaving the business behind. Up to 20 percent of GE's North American consumer lending business will be sold next year in an initial public offering. GE has been cutting back on GE Capital ever since the events of the 2008-2009 financial crisis. During that time, the credit markets froze, and GE found itself in a dangerous position.
McDonald's (NYSE:MCD) offered an updated spending forecast for 2014 Thursday, and reported that it plans to spend $2.9 billion to $3 billion next year as it opens 1,500 to 1,600 new restaurants and remodels about 1,000 others. According to Reuters, this reduction in spending is similar to the one McDonald's has endured this year as it faces falling same-store sales and weakened demand, but the company hopes to better turn things around next year as it continues innovating and rolling out new products.
Pandora Media Inc. (NYSE:P) has been upgraded. JPMorgan raised its price target for Pandora shares to $35 from $25 ahead of the company's third-quarter results on Thursday and reiterates an Overweight rating on the name. The firm believes Pandora is approaching an inflection point in monetization given its growing market share and expanding sales force. Stock of the online radio service closed up over 7 percent on Friday at $31.56.
Vanda Pharmaceuticals Inc. (NASDAQ:VNDA) has been on a meteoric rise this week due to its new sleep drug for the blind. Vanda shares closed up almost 12 percent after spiking more than 14 percent as both Food and Drug Administration staff and Ad Com panel members have given the company's Non-24-Hour Disorder treatment tasimelteon a favorable nod; Vanda shares have seen a roughly 148 percent gain since Monday.
Follow Jacqueline on Twitter @Jacqui_WSCS
Don't Miss: Distaster Strikes Chevron-Operated Texas Pipeline.