Burger King Piggybacks on McDonald's Rise in South Africa
Burger King (NYSE:BKW) recently made its first break into the newly lucrative South African $1.9 billion rand a year fast food market, but it's a little late to the game.
As South Africa's middle class continues to post exponential growth — having almost doubled in 8 years — the county is becoming more and more attractive to fast food restaurant chains. That is why Burger King, armed with a new strategy of international expansion, is focusing in on the region. It opened its first outlet in Cape Town last month, and Bloomberg reports that it plans to open 12 more branches by the end of next year. BK also hopes to eventually expand to other African countries.
Jaye Sinclair, chief executive officer of Burger King South Africa, explained to Bloomberg in a phone interview on June 7 that as the country's middle class grows, so too, does the number of households where both partners work, adding to the appeal of convenient fast food restaurants.
Expanding into South Africa and other African countries aligns with the strategy Burger King's new chief executive officer has focused on since his appointment on June 7. The fast-food chain has been struggling in its home U.S. market and is now looking to expand outward, evidenced by its expansion to Russia in 2010.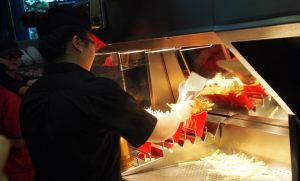 Unfortunately for Burger King though, the company is not escaping its competition in South Africa, but rather, is following it. BK's first outlet arrived in Cape Town a solid 18 years after McDonald's Corp (NYSE:MCD) started its operations there. The world's largest restaurant chain now supports 170 restaurants in the country, selling its signature Big Mac burger at 22.95 rand.
Nonetheless, Burger King remains optimistic about its future success in the region after its profitable first month. Sinclair boasts, "In the first four weeks we sold 3,000 meals a week from our Cape Town outlet, using a ton of Whopper burgers."
The company is hoping to open outlets in Botswana, Mauritius, Mozambique, Namibia, Zimbabwe, and Zambia.
Don't Miss: Did Lululemon Chairman Dump Shares Before Big Announcement?