Buzzworthy Catalysts Giving Juice to Dow 30 Healthcare Stocks This Week
Pfizer (NYSE:PFE): Current price $29.09
Pfizer, Procter & Gamble (NYSE:PG), and Arm & Hammer owner Church & Dwight Co. (NYSE:CHD) all bought manufacturers of dietary supplements in 2012, and more such deals are expected, as companies gamble that baby boomers and soaring health-care costs will drive demand for products, according to The Wall Street Journal.
Tetragenetics has reached a collaboration agreement with an option  with Pfizer for an exclusive license for SionX. The SionX tech allows high density expression of recombinant human ion channels on the cell membranes of Tetrahymena thermophila. Immunogen preparations of the ion channel are created to enhance antibody production against the extracellular portions of the ion channel target.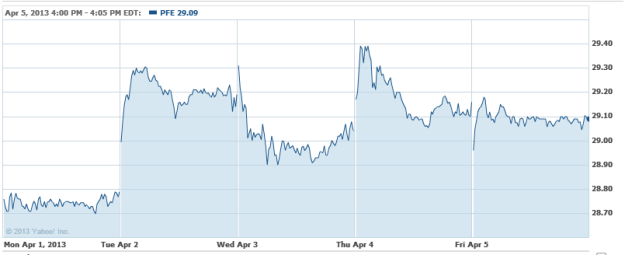 Don't Miss: Can Google and Microsoft Really Be Competitive in the PC Industry?
Merck & Co. (NYSE:MRK): Current price $45.06
Merck Sharp and Dohme has brought a lawsuit against Mumbai-based Glenmark Pharmaceuticals in the Delhi High Court, claiming violation of its patent for blockbuster anti-diabetes drugs Januvia and Janumet, says The Business Standard.