CA Inc. Earnings: Consecutive Streak of Profits Stays Intact, but Misses Estimates
S&P 500 (NYSE:SPY) component CA Inc. (NASDAQ:CA) reported its results for the fourth quarter. CA, Inc. is an information technology software and service company that helps organizations manage and secure their IT infrastructures and services.
Don't Miss: Wall St. Cheat Sheet's newest Feature Trades of the Month!
CA Earnings Cheat Sheet for the Fourth Quarter
Results: Net income for the application software company rose to $188 million (37 cents/share) vs. $101 million (20 cents/share) in the same quarter a year earlier. A rise of 86.1% from the year earlier quarter.
Revenue: Rose 2.3% to $1.13 billion YoY.
Actual vs. Wall St. Expectations: CA reported adjusted net income of of 48 cents/share. By that measure, the company fell short of mean estimate of 50 cents/share. Estimates ranged from 46 cents per share to 52 cents per share.
Quoting Management: "We said at the beginning of fiscal year 2011, that it would be a year of growth and investment, and it was." said CEO Bill McCracken. "We grew our revenue, earnings per share and cash flow while building our technology portfolio, bringing new talent to the team, further focusing our business on areas of strategic importance and investing in new routes to market. "The guidance we issued today, and the announcement of a new stock repurchase plan and dividend increase, reflects our confidence in our strategic direction and our commitment to enhancing shareholder value," McCracken concluded.
Key Stats:
Revenue has risen the past four quarters. Revenue increased 3.3% to $1.17 billion in third quarter. The figure rose 3.5% in second quarter from the year earlier and climbed 3.9% in first quarter from the year-ago quarter.
The increase in profit last quarter comes after net income fell in the previous quarter. In the second quarter, net income declined 22.2% to $222 million.
Competitors to Watch: Oracle Corporation (NASDAQ:ORCL), Microsoft Corporation (NASDAQ:MSFT), Intl. Business Machines Corp. (NYSE:IBM), Novell, Inc. (NASDAQ:NOVL), Red Hat, Inc. (NYSE:RHT), Hewlett-Packard Company (NYSE:HPQ), BMC Software, Inc. (NASDAQ:BMC), Quest Software, Inc. (NASDAQ:QSFT), Symantec Corporation (NASDAQ:SYMC), and Compuware Corporation (NASDAQ:CPWR).
Stock Performance: Shares of CA are down 1.2% from the previous close.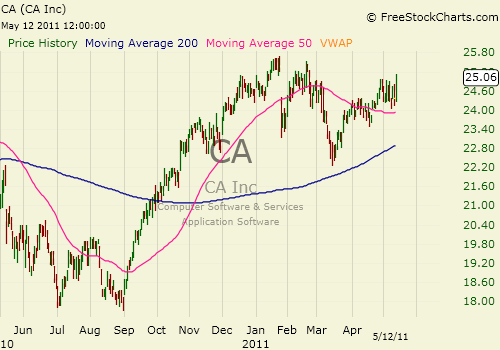 Don't Miss Wall St. Cheat Sheet's newest Feature Trades of the Month!