Calgon Carbon Corporation Earnings: Five Quarters of Double-Digit Revenue Growth
Rising costs did not help Calgon Carbon Corporation (NASDAQ:CCC) in the first quarter as profit dropped from a year earlier. Calgon Carbon Corporation is globally engaged in services, products, and solutions for purifying water and air.
Don't Miss: Wall St. Cheat Sheet's newest Feature Trades of the Month!
Calgon Carbon Earnings Cheat Sheet for the First Quarter
Results: Net income for the pollution and treatment controls company fell to $8.5 million (15 cents/share) vs. $9 million (16 cents/share) a year earlier. A decline of 5.6% from the year earlier quarter.
Revenue: Rose 20.8% to $124.4 million YoY.
Actual vs. Wall St. Expectations: CCC fell short of the mean analyst estimate of 17 cents/share. Estimates ranged from 14 cents per share to 19 cents per share.
Quoting Management: John Stanik, Calgon Carbon's chairman, president and chief executive officer, said, "The first quarter is typically Calgon Carbon's weakest and should not be indicative of performance for the year. Lower sales of Fluepac® carbons for the removal of mercury had an adverse impact on results for the first quarter."
Key Stats:
The company has enjoyed double-digit year-over-year revenue growth for the past five quarters. Over that span, the company has averaged growth of 17.7%, with the biggest boost coming in the most recent quarter when revenue rose 20.8% from the year earlier quarter.
Net income has dropped 8.9% year over year on average across the last five quarters. Performance was hurt by a 52.2% decline in the second quarter of the last fiscal year from the year earlier quarter.
Competitors to Watch: Rockwood Holdings, Inc. (NYSE:ROC), Valhi, Inc. (NYSE:VHI), Kronos Worldwide, Inc. (NYSE:KRO), Tronox Incorporated (TRXAQ), Sensient Tech. Corp. (NYSE:SXT), TOR Minerals Int'l, Inc. (NASDAQ:TORM), Fairmount Chemical Co., Inc. (FMTC), Arch Chemicals, Inc. (NYSE:ARJ), and Rhodia (RHAYY)
Stock Performance: Shares of CCC are trading at $16.89 as of May 3, 2011 at 11:51 AM ET, up 0.42% from the previous closing price of $16.82.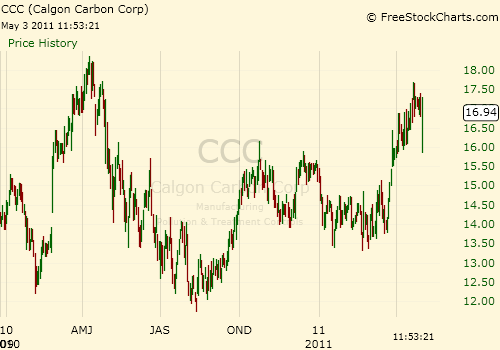 Don't Miss Wall St. Cheat Sheet's newest Feature Trades of the Month!