Campbell Soup Earnings: Revenue Grows After Three Straight Declines, Profit Up
S&P 500 (NYSE:SPY) component Campbell Soup Company (NYSE:CPB) reported net income above Wall Street's expectations for the third quarter. Campbell Soup Company, together with its consolidated subsidiaries, is a global manufacturer of convenience food products.
Don't Miss: Wall St. Cheat Sheet's newest Feature Trades of the Month!
Campbell Soup Company Earnings Cheat Sheet for the Third Quarter
Results: Net income for the processed and packaged goods company rose to $187 million (57 cents/share) vs. $168 million (49 cents/share) in the same quarter a year earlier. A rise of 11.3% from the year earlier quarter.
Revenue: Rose 0.6% to $1.81 billion YoY.
Actual vs. Wall St. Expectations: CPB reported adjusted net income of of 56 cents/share. By that measure, the company beat the mean estimate of 52 cents/share. Estimates ranged from 48 cents per share to 56 cents per share. Analysts were expecting revenue of $1.8 billion.
Quoting Management: Denise Morrison, Campbell's Chief Operating Officer, said, "This quarter we reported a modest increase in sales and EBIT and a significant improvement in earnings per share growth, with three of our four reporting segments contributing to this performance. While we are encouraged by our progress, we are not satisfied with this performance and clearly have more work to do. After heavy discounting in U.S. soup during the first half, we began shifting our marketing investments in the third quarter toward brand building initiatives. Over time we anticipate that these efforts, combined with accelerated and targeted innovation, will improve price realization and strengthen brand equity. Sales of our beverage products softened this quarter compared to very strong results a year ago."
Key Stats: Gross margin shrunk 0.9 percentage point to 40.4%. The contraction appeared to be driven by rising costs as the figure rose 2.1% from the year earlier quarter while revenue rose 0.6%.
A year-over-year revenue increase last quarter snaps a streak of three consecutive quarters of revenue declines. Revenue fell 1.2% in the second quarter, 1.4% in the first quarter and 0.7% in the fourth quarter of the last fiscal year.
Last quarter's profit increase breaks a streak of two consecutive quarters of year-over-year profit decreases. In the second quarter, net income fell 7.7% while the figure dropped three quarters ago.
The company has now fallen in line with estimates for the past two quarters. It reported net income of 71 cents in second quarter.
Competitors to Watch: TreeHouse Foods Inc. (NYSE:THS), The Hain Celestial Group, Inc. (NASDAQ:HAIN), McCormick & Company, Inc. (NYSE:MKC), H.J. Heinz Company (NYSE:HNZ), Ralcorp Holdings, Inc. (NYSE:RAH), ConAgra (NYSE:CAG), SYSCO (NYSE:SYY), United Natural Foods (NASDAQ:UNFI), General Mills (NYSE:GIS), Kellogg (NYSE:K), Kraft Foods (NYSE:KFT), Sara Lee (NYSE:SLE) and Pepsico (NYSE:PEP).
Stock Performance: Shares of CPB are trading down a tad at $35 per share: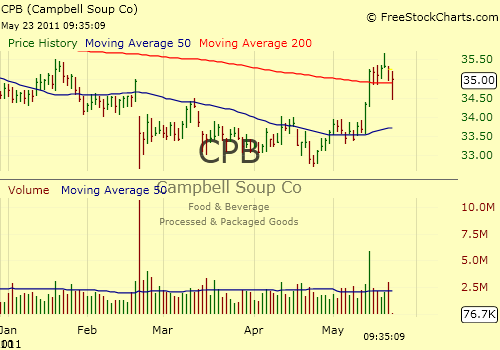 Don't Miss Wall St. Cheat Sheet's newest Feature Trades of the Month!