Can a Kill Switch Stop Smartphone Burglaries?
Could a simple technological panacea halt the plague of smartphone thefts? Cell phone theft has become an increasingly widespread crime over the past year. Last year, San Francisco saw the number of robberies involving mobile devices increase from 36 percent two years ago to almost 50 percent last year. Criminals are benefiting from the relatively high resale value of an iPhone, which in San Francisco can range between $400 and $500. Last year, 14 percent of reported crimes in New York involved the theft of an Apple (NASDAQ:AAPL) mobile product. So what are handset makers doing to help stop this crime?
Many law enforcement authorities believe that smartphone manufacturers and carriers are not taking enough proactive steps to prevent the thefts of these devices. San Francisco's district attorney believes there is a simple way phone makers could halt the wave of smartphone thefts. Via The New York Times, George Gascón states "Unlike other types of crimes, this is a crime that could be easily fixed with a technological solution."
San Francisco's district attorney is referring to the so-called "kill switch" solution. This would be a software implementation that would enable the phone to be completely shut down if it is ever reported stolen. However, one problem with this solution is that if there is software designed to shut down a phone, there will inevitably be a hack designed to circumvent this security feature…
In the meantime, smartphone manufacturers such as Blackberry (NASDAQ:BBRY) and carriers such as Verizon (NYSE:VZ) and Sprint (NYSE:S) continue to maintain their own databases of stolen handsets. These databases keep track of a phone's International Mobile Station Equipment Identity number. Phones that are reported stolen have their unique identifiers uploaded to a database which theoretically should keep the phone from being able to be activated.
This would seemingly remove any motivation to steal a cell phone, since the thief would essentially be stealing a fancy looking paperweight. However, in practice the stolen phones are either getting this number modified, or the phones are simply shipped overseas where another unsuspecting carrier will activate the phone.
Consumers can also take their own steps to protect their handsets. Phones that are powered by Google's (NASDAQ:GOOG) Android software do not come with any standard anti-theft or lost-phone apps, but these apps can be purchased from third-party app developers. Apple provides its users with its "Find My iPhone" app that enables a user to remotely locate and wipe the memory of their iPhones…
With smartphones taking on more of the functions that used to be associated with larger personal and work computers, a smartphone theft can not only be a monetary loss, it can also have a major impact on a users' personal and work life. Whether or not smartphone manufacturers ultimately decide to install a "kill switch" in the next generation of handsets, users can still take their own precautions to protect their devices by installing security apps and making sure to wisely use their devices in public spaces.
Here's how Apple has traded over the past week.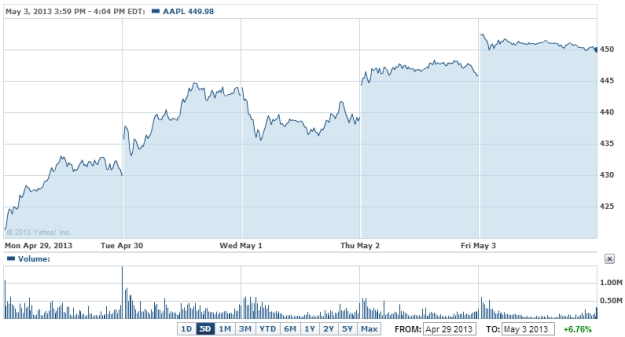 Don't Miss: BlackBerry's Too Quick For Apple With This Special Client.