Can AOL Survive Without Dial-Up?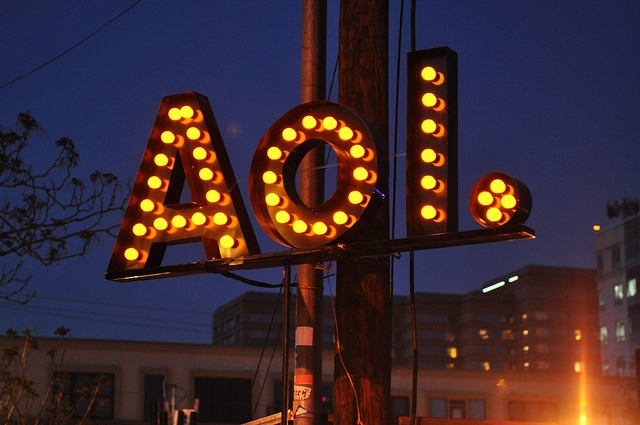 With the use of dial-up Internet access long since past, AOL (NYSE:AOL) has endeavored to reinvent itself as a digital publisher. The company's transformation seems to be popular with investors, as the stock has climbed almost 30 percent in the past year. However, is AOL's impressive rise fueled by real business growth or by speculative hot air? Let's use our CHEAT SHEET investing framework to decide if AOL is an OUTPERFORM, WAIT AND SEE, or STAY AWAY.
C = Catalysts for the Stock's Movement
AOL shares fell 8.9 percent — from $41.42 to $37.74 — after its first-quarter earnings report on May 8. The selloff was mainly a result of its rapidly growing third-party ad operations failing to meet analysts' expectations. AOL's Ebitda did beat estimates, mainly due to cost-cutting initiatives across the board. The most notable of these cost-cutting initiatives was the divestiture of its AOL Music pages. A bright spot in the earnings report was total advertising, which gained 8.8 percent year-over-year. AOL's long-suffering community news site, Patch, failed to deliver this quarter, posting a $4.9-million loss.
As AOL transitions from a dial-up Internet portal to an ad-driven digital publisher, its success hinges on increasing its Internet presence through Huffington Post, TechCrunch, and Patch. CEO Tim Armstrong has touted Patch, which supplies extremely personalized local news content to around 1,000 different regions, as the next big thing in digital publishing. While Patch has failed to produce revenues in the black, Armstrong says he is fully confident that the division will become profitable by the end of FY 2013. To do this, Patch would have to double sales growth for the coming year and cut operating expenses in half. While the premise of Patch is promising — a hub for local news and community announcements — its success is unproven on a large scale. Doubling its sales growth in less than a year seems highly optimistic.
E = Earnings, Revenue, and Profit Margin Growth is Mixed
While the stock price has experienced strong upward momentum over the past year, its quarter-over-quarter EPS growth has moved wildly sideways. The swings in EPS growth are due partially to AOL's ongoing cost-cutting initiative. It is impressive to note, however, that AOL has beat analysts' estimates in six consecutive quarters prior to Q1 2013. AOL's revenue growth shows a much more stable outlook. Year-over-year revenue growth hit an inflection point in Q3 2012 and has been positive in the past two quarters. For the first time since 2008, advertising revenues were up across the board.
| | | | | | |
| --- | --- | --- | --- | --- | --- |
| | 2013 Q1 | 2012 Q4 | 2012 Q3 | 2012 Q2 | 2012 Q1 |
| Qtrly. EPS | $0.32 | $0.4038 | $0.22 | $10.17 | $0.22 |
| EPS Growth QoQ | -20.75% | 83.55% | -97.84% | 4522.73% | N/A |
| Qtrly. Revenue | $538.30M | $599.50M | $531.70M | $531.1M | $529.4M |
| Revenue Growth YoY | 1.68% | 3.94% | 0.00% | -2.05% | -3.99% |
| Gross Profit Margin | 26.97% | 29.26% | 28.10% | 25.40% | 27.35% |
*Data sourced from YCharts
T = Technicals Are Strong
AOL is currently trading at around $36.50, above both its 200-day moving average of $35.40 and its 50-day moving average of $35.76. AOL has been experiencing an unmistakable uptrend in the past year. The stock has increased almost 30 percent, but its growth has been volatile. Additionally, a relatively high 8.5 percent of outstanding shares are short sales, suggesting that there's a somewhat bearish outlook on AOL's stock.
Conclusion
AOL is dealing with death of dial-up the best that it can. It has made several key acquisitions to increase its Internet presence as it embarks on its return to relevance. However, its ad revenues pale in comparison to giants Google (NASDAQ:GOOG), Facebook (NASDAQ:FB), and Yahoo (NASDAQ:YHOO).
The premise of Patch looks promising, although it is highly unlikely sales will grow enough to make the project profitable this year. AOL announced Monday morning that it would increase its share buyback program by $150 million, bringing the total share repurchases authorized this year to $200 million. This should bolster the stock price in the short term. AOL is trading at a relatively low trailing price to equity ratio of 3.16.
If you can stomach the risk of the highly competitive Internet ad space and believe that projects like Patch are the future of the Internet, AOL will seem relatively undervalued. It is unlikely these projects will be profitable in the near future, and the stock price could go much lower before AOL can demonstrate steady earnings growth. For now, AOL is a WAIT AND SEE.
Using a solid investing framework such as this can help improve your stock-picking skills. Don't waste another minute — click here and get our CHEAT SHEET stock picks now.